Boys Soccer Kicks Off With Tie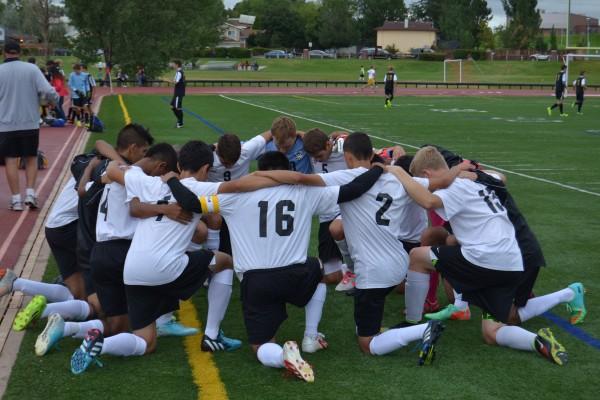 By Jorion Marshall, Reporter
It's that time of the year again. The time for new beginnings, and the time to rally together. As the Raiders get right back to work, many people anxiously wait for the fall 2015 soccer season to kickoff.
Although, in recent years the track record for Rangeview's soccer team has been outstanding, this year's roster has had a complete makeover. Nine Class of 2015 seniors were erased from this year's roster, giving Coach Strouse some difficulties replacing majority of his star players.
But since when did "odds" ever stop the Raiders? The answer is simple, "Never." Even according to a fan Abel Negussie.
"We never back down…" said Abel, "Last time I checked we still had talent in players such as Luis (Sostenes), and Michael (Johnson)." With words such as "heart" and "dedication" commonly used, it looks like Raider fans won't be short on faith in the 2015 soccer roster's performance.
This year the Raiders have domination as their mindset, and believe that they can provide another remarkable season as like the ones before.
In an interview with the team's starting forward, Michael Johnson, he stated, "At first I didn't have faith in my team, but as we grow together, my faith grows with them."  After an impressive scrimmage on Saturday morning, the sky's the limit for this year's Rangeview Soccer Team.
The Rangeview soccer team was able to tie Eaglecrest 1-1 in their first regular season game last night. Although they didn't come out with a win, their confidence is unaltered.