Football Steps Up, Still Falls Short. Now 0-2
By Sebastian Wiegand, Sports Editor
Coming into Thursday, uncertainty about the football team was omnipresent after losing the season opener to Westminster by a wide margin.  After last night most of that uncertainty was wiped aside as the raiders played a close game against the strong team of Overland High school.   
"We found our swagger," said Senior Dieon Fifita, "we played with more attitude and we controlled our emotions."
The defense stepped up and only allowed 48 rushing yards compared to the 238 they gave up to the Wolves.  Jeremiah collins, who came into the game averaging nearly 10 yards per carry was held to only 39 yards on 19 carries.  They also forced two turnovers, a fumble which they gained possession of and an interception by Senior Devante Wheaten.
Junior Quarterback Braden Cook found his footing after a shaky game vs. Westminster as he went 5-12 with 143 yards and 2 touchdowns.
Still it was not enough as Overland still managed to come out on top.  
"We need to get better at protecting the football and on third down," said Coach Hoffman, "If we do those things I think we'll be even better next week."
The Trailblazers came out on fire as they quickly amassed a 13-0 lead.  But the raiders came rushing back as Cook Connected with Junior Aaron Reed for a 27 yard Touchdown pass followed by a field goal from Junior Kicker Daniel Wurst.
The Trailblazers still held a 10 point lead as they kicked the ball off to start the second half. Senior Elijah Reed took the kickoff back 77 yards to pull the Raiders back within 3.  The defenses then stepped up and played the next 23 minutes without anyone scoring.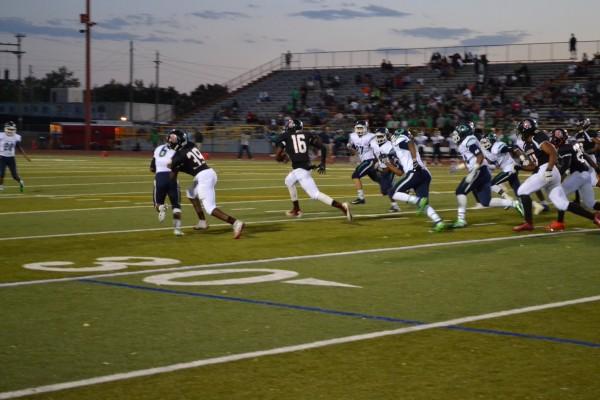 The Raiders had a chance to tie the game at 20 with less than two minutes remaining but the kick from Wurst was blocked and taken back 71 yards for the eventual game winning touchdown.
Rangeview, However, went down fighting as on the next drive Cook connected with Senior Devante Wheaten for a 68 yard touchdown pass to bring the game within 3 and energizing the crowd.
"To hear the crowd get rowdy when we make good plays gives us the drive to win," said Senior Devon Harris.
The Raiders then attempted an onside kick but it was recovered by Overland who ran the ball and the clock to end the game and Rangeview's comeback.  
Rangeview will have plenty of time to prepare for their next game as Grand Junction high School will make the trip to aurora to face the Raiders next Saturday at 5:00.