Soccer team 1-1 shoots for high goals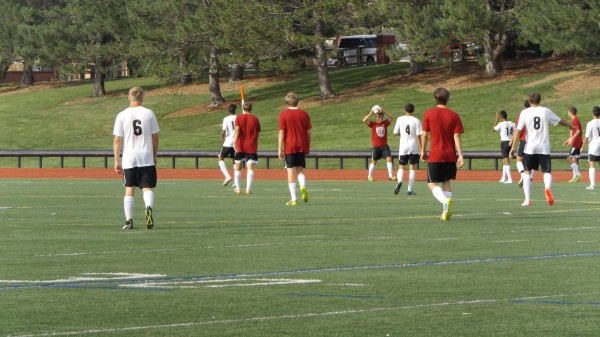 As the Rangeview Boys Soccer team comes off a remarkable season, the guys this year are pretty ecstatic for the upcoming season.
Fernando Chavez who is a 4 year varsity player and team captain said, "We can be as good as we want to be. We have better chemistry this year since the majority of us are seniors."
It might take a lot to overcome last year's team, but under Coach Vic Strouse, "the team has potential to be as good as last year's team."
The 2013-2014 Rangeview Boys Soccer team reached all the way to the number 1 ranking last year before losing in the second round of the 5A state playoffs. In order to match another year like this, the soccer players must overcome the "luck" said Strouse and "be the best team on the field each night."
With many tough teams on the schedule, senior starter Kenny Agbim says, "We aren't worried about any single team, but the biggest obstacle we will have to overcome is finding team chemistry and leadership."
With good chemistry and great leadership, the 2014-2015 Rangeview Boys Soccer team is shooting toward high expectations as they take on a tough EMAC league schedule.
After the first week of the season, the Rangeview Raiders stand at 1-1. On Thursday, they kicked off the season with a 3-0 win over Green Mountian. Senior Jack Ramirez along with Juniors Michael Johnson and Juan Abundis all scored in the victory.
On Saturday the Raiders traveled to Pine Creek but couldn't come away with a victory as they were shutout 4-0. Sophomore goalie Jose Helguera had two saves in the loss.
The boys look to bounce back from the loss as they travel to Smoky Hill on Wednesday at 4:30.
http://www.maxpreps.com/high-schools/rangeview-raiders-(aurora,co)/soccer/home.htm