Dolmas's infinite impact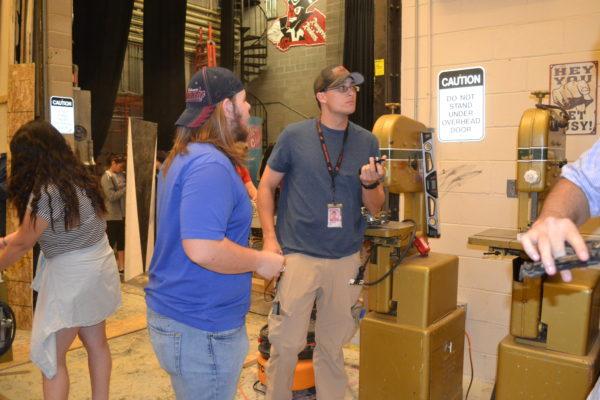 Feature Photo By: Hannah Metzger- James Dolmas (right) instructs student Cole Mason (12). Dolmas works within Rangeview's theater teaching the technical theater class during first period. 
Within Rangeview High School, countless people work towards helping to hold the school together; however, many believe that one person stands out from the rest. Ranging from the students to the technology, campus monitor James Dolmas is Rangeview's go-to guy.
Dolmas is a Rangeview alumni, graduating from RHS in 2010, and, since his attendance, he has been an incredibly active member of the Rangeview community. Today, Dolmas has served as a campus monitor since 2013 and worked within the theater department since 2011. He is now the stage crew sponsor.
Activities director Mrs. Strouse has been working alongside Dolmas since he was a student here at Rangeview. Strouse expressed her gratitude towards Dolmas and his impact on the theater.
"When I took over the technical theater class in 2011-12, I was really insecure about my knowledge of tech and design. I got the approval to hire James as the Scene Shop Foreman and the productions have been spectacular because of him ever since," Strouse explained. "James is a mentor and role model to the students in technical theater and in the school. He is an incredible teacher. He pushes students to do more than they ever thought they could."
Besides his involvement within the theater department, Dolmas has also been highly influential to the production of various school events such as the infamous haunted house from Nightmare on Raider Street; however, Dolmas's impact on RHS ranges far beyond construction.
"What I like most [about working at Rangeview] is working with the kids helping them out," explained Dolmas. This dedication to students is clear through his popularity among Rangeview's student body.
Stage crew member senior Clayton Savage described his relationship with Dolmas as unique to that of other staff members.
"[Dolmas is] a friend and a protector of the school," said Savage. "He teaches us how to build in tech and [helps] with other life skills that normal teachers wouldn't even think about talking to us about."
Rangeview students' fondness of Dolmas may stem from his respect and equal treatment of the student body when compared to the staff.
"Honestly I can't tell why [students connect with me]. The only thing I could think of is I treat everybody as an adult; I don't talk down to students as kids," explained Dolmas. "I feel you're in high school you should be treated as an adult."
Dolmas's experience as a student at RHS could also be a reason students feel they can relate to him. Dolmas understands what the Rangeview community is like from both sides.
"When you're a student, there is a lot less care. When you work here, it's a different world. You see a whole lot of stuff you never see as a student. As a student, you only have to worry about yourself, working in my job I have to worry about 2,300 kids plus staff," Dolmas said.
With Dolmas's long history at Rangeview, it's hard to imagine a day where he'd be gone; however, that day might be coming sooner than expected.
Strouse divulged that Dolmas has recently finished police school and Dolmas himself revealed his desire to work in law enforcement.
"I will be leaving RHS at some point, I do not know when," Dolmas admitted. "This is not what I want to do with my life, I have other things planned. RHS has been good to me; I have been able to put myself through school while working here, was able to buy my first house because of this place. But, in the long term, I want to be in law enforcement, and that is what I am working towards."
Although the timing is unknown, the possibility of Dolmas leaving Rangeview has left many members of the community in sorrow.
"I don't even want to think of what Rangeview or the theater would do without James," expressed Strouse. "He is such an incredible asset to the school. I'm so lucky to have worked side by side with him for all these years. I definitely learned a lot from him."
Savage added that, without having Dolmas around, he will miss having someone outside of his family that he knows cares about him and having someone to talk about things with.
"Just mostly [I'd miss] the respect he gave us and we gave him," said Savage.
Dolmas has truly left his mark on Rangeview High School and it's students and staff. When the time comes for Dolmas to take the next step in his future and career, it is clear that his absence will be felt deeply within the RHS community.