Vinny breaks tradition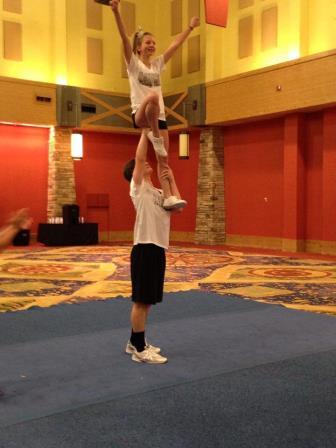 If the students and staff here at Rangeview have not already noticed, this year's Rangeview cheer team has a surprising new addition. Sophomore Vincent "Vinny" Stockdale has been recruited for the 2014-2015 varsity cheer squad, here at RHS. Many people are familiar with Stockdale, but to some the guy on the cheer squad is still a mystery.
"Overall, people have reacted very positively. People who I do not even know will come tell me how well I'm doing," said Stockdale. "Some boys are a little confused as to why there is a boy on the team but they will get used to it; times are changing."
Anytime someone breaks the status-quo, it is unknown how others will react, but, luckily for Stockdale, it seems as if the Rangeview community is being very supportive. Seeing a male on the cheer team is something foreign to a lot of students, and Rangeview could have reacted in a variety of ways, maybe even negatively, so it is pleasant to see that our school has remained so positive and supportive.
"I would love to recruit more guys this year. I think my addition will get the ball rolling for those who have been interested but did not want to speak up or try out," said Stockdale.
Some boys may have been discouraged to try out for cheer. Stockdale shows that in addition to bringing diversity to the squad, there are other benefits to having males on the cheer team.
"Now that we have a co-ed team, it opens up a lot of doors for competitions. It is exciting and new to have a guy on the team," said fellow sophomore varsity cheerleader Maegan Akell.
Both Stockdale and Akell have shared that now that the Rangeview Varsity Cheer Team is considered a co-ed team they will be able to compete in more categories during competitions, which may bring more victories to Rangeview.
Through all of this, it really stands out how humble Stockdale has remained throughout the whole process of making the cheer squad. During the interview, Stockdale has expressed how proud he is to have made the cheer team but in no way gloated about being the only male. Stockdale has not forgotten the people who have supported him and helped him get to where he is; he has expressed that his family and fellow varsity cheerleader Chasey Leitz have been some of his biggest supporters. Even though he has begun to get more recognition throughout Rangeview, he remains extremely humble and grateful.