Top 10 Scariest Mascots
       Even if a game isn't going as well as the fans would like, mascots are a fun way for them to get engaged. Some mascots are lively and loveable, while others are downright scary. Although these energetic, sport loving creatures have good intentions, sometimes the execution of the costume and its features fall short. With the start of fall and winter sports and Halloween just around the corner, I decided to rank the scariest and creepiest mascots in all of sports.
10. Go (Phoenix Suns)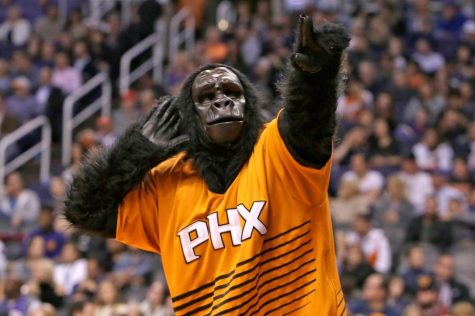 Go the Gorilla was originally a singing telegram, sent to the arena by a fan. He was invited by staff to stay awhile to entertain. After that, he just kept showing up until he was officially invited as the Sun's mascot in 1980. Although Go is known for his insane dunks and tricks before the 4th quarter of every game, there's something about the monkey mask and the hollow eyes that doesn't sit right. I think a makeover is long overdue.
9. WuShock (Wichita State)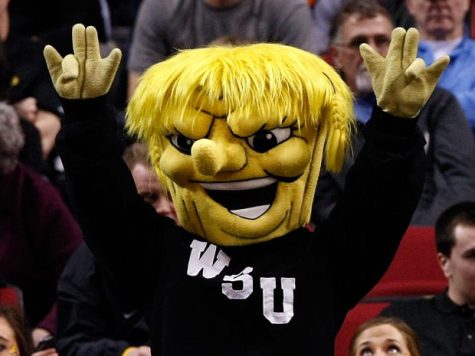 WuShock was made in a fraternity competition and was named after the university's initials at the time (WU) and their nickname (The Wheatshockers). He is SUPPOSED to be a big bundle of wheat. What he actually looks like is up for debate. Some people say he looks like a deformed french fry, a hairy highlighter, and much more. Personally, I agree with Jimmy Fallon, who thinks he resembles Gordon Ramsey. He's scary looking, imagine how scary he is when he starts yelling about undercooked Beef Wellington.
8. Swinging Friar (San Diego Padres)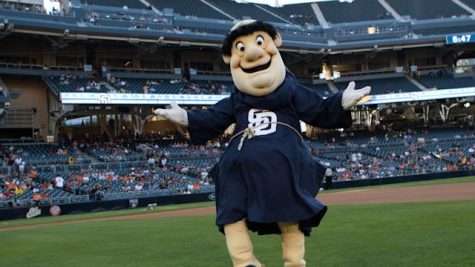 The Padres' 'Swinging Friar" is one of a kind. He's been with the team ever since they were a minor league team before joining the Major League in 1969. The friar's permanent smile and perpetually enthusiastic expression makes you wonder what he could be hiding. Although I can see the attempt at a charming mascot, I am never a fan of trying to make a mascot of a human. It never turns out good and this is a perfect example. Please don't try to make a human mascot. Just don't.
7. The Coyote (San Antonio Spurs)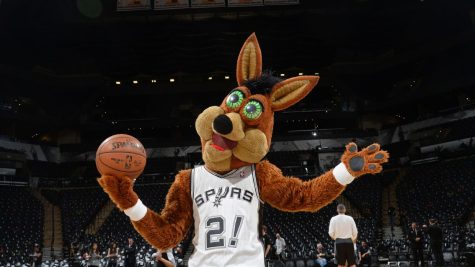 The Coyote is San Antonio's creepy rendition of, well, a coyote. This character is so creepy, they didn't even come up with a name for him. It's just, "The Coyote". Although he's often seen messing with game officials and showing off tricks at halftime, I just can't see anyone looking at this thing and thinking "Yeah, that's the one." Not sure where the thought process was in making the head, and especially the crazy green eyes. It doesn't help that he's been known to pull his eyes completely out from time to time. It's a no from me.
6. Spartacat (Ottawa Senators)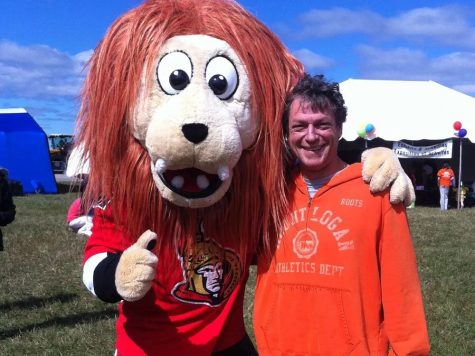 Known as the Ambassador of Fun (according to the organization), Spartacat is seen in and around the Canadian Tire Centre, pumping up fans, dancing, and even making appearances at local charities. Although he seems like a nice cat on the inside, the outside is not even close to matching that sentiment. He only has four teeth and giant eyes, making him very creepy and giving him an unstable expression. I'm sure Senators fans are very happy with how their beloved mascot turned out.
5. Gritty (Philadelphia Flyers)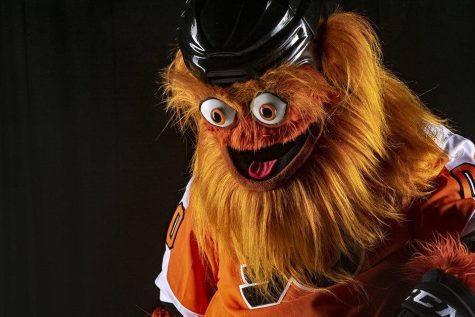 The Flyers were without a mascot for about 40 years before their newest creation. I say creation only because I'm honestly not quite sure what he is. Gritty, introduced in the 2018-19 season, was the franchise's solution to their mascot problems. Standing at 7 feet tall, Gritty is a giant, orange muppet-reject, and he took the world by storm. Some of his most famous achievements include (but are not limited to), threatening rival team's mascots, body checking fans on the ice, and streaking (yes, like that) through the Flyer's outdoor stadium in their annual Winter Classic game. Lock up your children and valuables, this guy cannot be trusted.
4. Cardinal (Stanford University)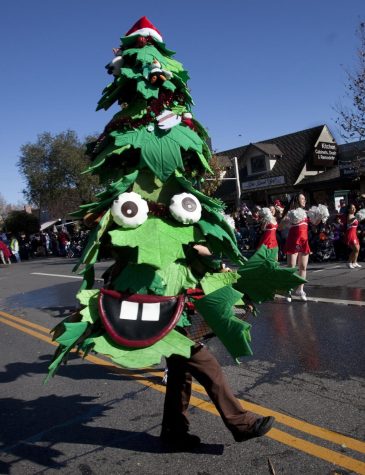 What. Is. This. Why? I'm convinced that there's a better idea out there somewhere that they could've used to make a tree. It is Stanford, for goodness sakes. I mean, that seems simple enough, right? Although this is not the school's official mascot (they don't have one after they got rid of their previous mascot, the Indian), it is the school band's unofficial mascot and appears at any game or event that the band plays at. Maybe they didn't have a big budget, maybe they think it's funny, but I sincerely believe there are better solutions out there. There are bits and pieces of tree that don't connect, and it seems like the eyes and smile were just taped on. If I saw this coming at me at night, I would genuinely fear for my well-being. Cardinal is an abomination and Stanford needs to find a better mascot soon.
3. OG Pierre (New Orleans Pelicans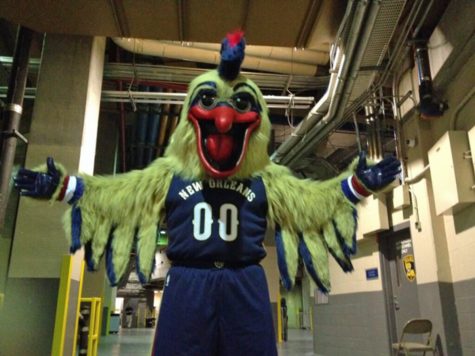 In 2013, the New Orleans Pelicans released a mascot. His name was Pierre and man was he scary. His soulless eyes and eerily clown-esque face does not make for a kid-friendly mascot. The Pelican's social media team even had a little fun with it, revealing him on the day before Halloween. But even the organization realized they had created a monster, and updated Pierre in the very same season during the All-Star Break. They claimed he had "broken his beak during a pick-up basketball game with other mascots and had to undergo reconstructive surgery." Whether the team's claims are true or not, a new Pierre featured in the 2014 All Star Game with a more cartoonish face. But the memory of the original Pierre remains, mostly in basketball fans' nightmares.
2. Purdue Pete (Purdue University)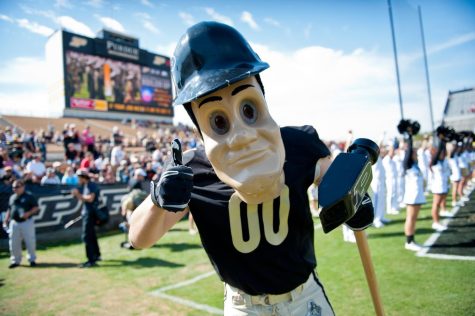 Again with trying to make humans into mascots? It's still a terrible idea, and this time it's significantly worse. Purdue Pete was originally the school's bookstore model, showing off merchandise for students to purchase. Eventually, he was approved for a full costume and adopted as the official school mascot in the 1940s. He's had multiple appearance makeovers, but it still hasn't changed his appalling look. Like many other creepy mascots, his eyes seem to stare lifelessly at cameras and fans and his face is not proportionate to his relatively human-sized body. It doesn't help that he carries a giant hammer, as boilermakers do. Pete holds quite a few prestigious accolades as well, including being voted the "Creepiest Mascot" and runner-up for the 'Least Sexiest Mascot" in a poll by the Quality Logo Products Blog in August of 2021. There's gotta be something a plastic surgeon can do about that chin.
1. King Cake Baby (New Orleans Pelicans… Again)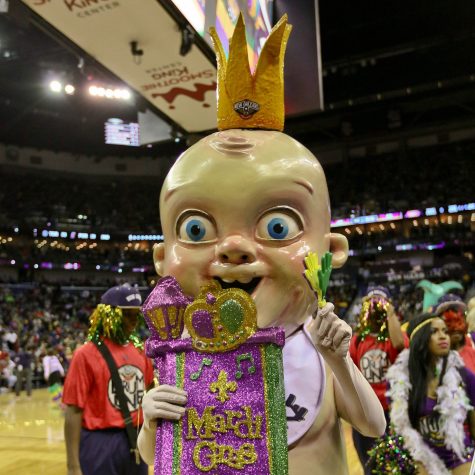 Seriously, whoever is coming up with mascot ideas in New Orleans needs to be fired. Immediately. New Orleans' newest nightmare fuel is a reference to the popular tradition associated with Mardi Gras, where a small plastic baby is baked in a cake, and whoever gets the slice with the baby is supposed to either have good luck, get pregnant, or bake next year's cake. So, around Mardi Gras in 2014 (again?!?), The Pelicans sent King Cake Baby to join Pierre the Pelican out in the crowd as a seasonal mascot for the team. He is most often seen scaring fans and players on the court or walking around town. If his creepiness wasn't self-explanatory enough, the creator of the LITERAL HORROR FILM "Happy Death Day" (2017) was accused of copying King Cake Baby's lovable face. By far, King Cake Baby takes the cake for the scariest mascot in all of sports.