Senior Dominique Smith, the dominate life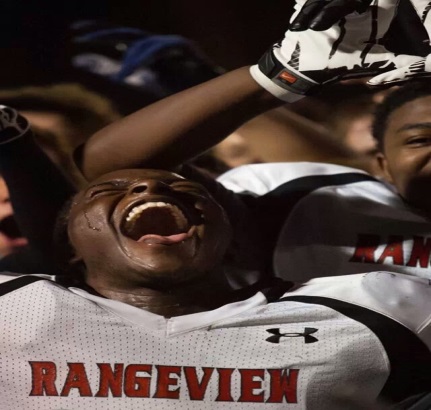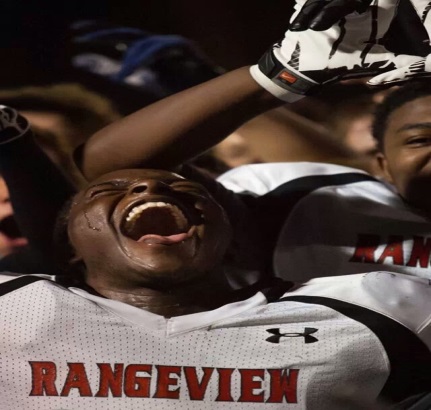 By: Quaid Vincent, Sports Reporter
Senior Dominique Smith is more than a tri-athlete at Rangeview High School-he is a captain of the football team; he is always a positive role model and influence; he is a young man that has overcome all kinds of diversity and has only let it influence his life in positive ways.
Dominique is one of the hardest working people at Rangeview and it's been that way since he was a freshman, always pushing himself to accomplish a goal he holds to become great at his craft. This is why Smith is the athlete he is, yes he is blessed with unbelievable athletic abilities and strength but that will only get an athlete so far ambition is what takes you to the next level.
Smith is a rare kind of athlete and he shows it every time he is on the field/court.  He's strong like a linebacker with speed like a running back.  Smith is a three year varsity starter for football and track and is also a great basketball player, but his number one sport is football.
"It shows how rare of an athlete Dom is, knowing that he is a three year varsity football player says it all; we don't come around those kind of athletes all the time" said offensive of coordinator Coach Ryan.
He even lived in Washington for a short period of time during the summer to train with professional football team Washington Redskins.  Shortly after Smith moved back home he suffered a significant injury. At first he believed it wasn't anything to serious and I just need to take it easy and let it heal. After about two weeks of rest and recover he was back in action practicing with the team at full speed and full contact, even played in a scrimmage.  Unfortunately when Smith went in to get an MRI the results came back positive to a torn ACL and Meniscus, a season ending injury.  To Smith and all his teammates this was heartbreaking news.
"It's hard to see a kid like Dominique faced with this kind of injury, especially after seeing the way he has worked for his senior football season"  said X-NFL player Rod Rodgers.
This just shows the kind of person Dominique is, he was playing football at full speed and contact with a torn ACL and Meniscus, something to the average person is impossible and he did it without complaining once.
"I feel like this injury has taught me a lot. For instance to cherish moments I wouldn't necessary cherish on the regular day.  Tearing my ACL really made me realize what's important in life and how much I can miss the little things like being able to walk up the stairs. I also think it was good for me to an extent. Not being able to play football my senior year made me want to play football in college even more which just helps me work even harder for that goal." said senior Dominique Smith.
Dominique continues to work hard every day and is waiting to hear back from CSU Pueblo on a potential scholarship deal.