Staff Member of the Month: Anna Gebhardt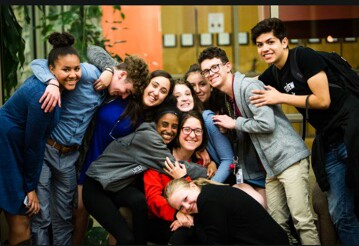 Feature Photo Provided By: DUDL – Gebhardt and students pose for a picture at the DUDL's DU speech and debate tournament from 2017. As seen in the picture, Gebhardt creates many great connections with her students and many say is one of the best teachers at Rangeview.
By: Alexis Drummond, Review Staff
The votes are in, and the staff member of the month for October is Mrs. Anna Gebhardt. She was selected by numerous students and staff for showing excellence throughout the month of October.
Gebhardt teaches both yearbook and speech. After school, she is the speech and debate sponsor.
Being the staff member of the month is achievable for any person who works within the walls of Rangeview, but Gebhardt doesn't believe she should have won.
"No, there are so many other teachers that are more impressive and amazing than me," said Gebhardt. "There are a lot more people that do a lot better things."
Students say she is hilarious and fun to be around, and some even say that she makes learning fun with interesting classwork.
"She is outgoing," said Trinity Cody, a senior. "She always is walking around with a smile."
Most people know that teachers don't get paid a lot for what they do, but Gebhardt certainly doesn't teach for the money — she teaches to make a difference in people's lives.
"I love being with the students. They make the job fun and always keep me on my toes," said Gebhardt.
Each day she comes into work, Gebhardt maintains a happy attitude instead of showing the daily struggles of a teacher.
"I have the desire to interact with people on a daily basis and to try and make a difference," said Gebhardt. "My job is amazing and super rewarding."
For a majority of her college experience, Gebhardt didn't know that she had the desire to become a teacher. Before that, her dream job was to be a firefighter.
"I didn't know I wanted to be a teacher until I was a junior in college. I double majored in Spanish and English. I loved both," said Gebhardt. "I wanted to be a firefighter! It looked so cool and I wanted to save people."
Gebhardt noted that she became a teacher to change lives. Having made an impact on kids she taught previously, Gebhardt continues to push herself to become better.
"I hope students know they can count on me when they need someone and hopefully I have made Rangeview a more inviting place," said Gebhardt.
Many agree that Gebhardt has risen above and beyond in the eyes of everyone who she has influenced.
"It is awesome! It is great to be praised by people that I care about," said Gebhardt.