A.P. Mulligan goes public
Everyone has a certain adult they go to if they need help or if they just need someone to talk to. Here at Rangeview, our staff looks out for students closer than you may think. One of our Assistant Principals, Ian Mulligan, takes a closer look at the students every day. Mulligan is in charge of keeping the class of 2016 on track to graduate.
Mulligan wanted to try something new for a change. This is Mulligan's first real job at a public school, as he has worked in private schools for most of his career. Mulligan was a Science teacher at Regis Jesuit High School before he came to Rangeview. He wanted to take on the challenge of transitions from being a Science teacher to becoming an administrator at a new school in order to experience new things.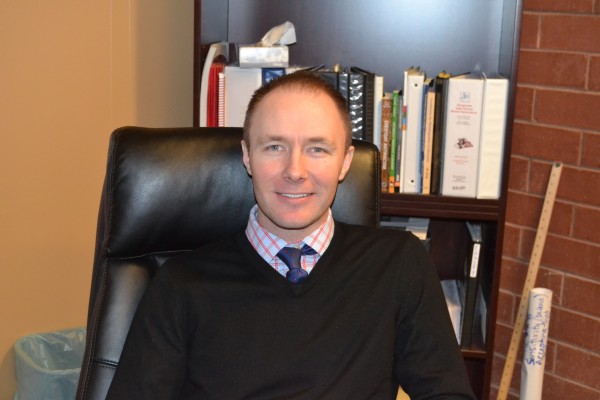 "I wanted to take on the challenge to experience new things in a different perspective than just a teacher," said Mulligan. "I also wanted to take on a population change because it is more of a challenge to work with more students to help them become better."
Students feel that Mulligan is actually very useful when it comes to their education.
Senior Miranda Buchholz says, "I may not be a junior anymore, but Mulligan is one of the Assistant Principal's that I can go to for help and get a better view when it comes to my senior year and graduating on time."
Mulligan studied at the University of Dayton in Ohio and graduated with a degree in Biology. Mulligan participated in four years of undergrad school and one year of grad school where he got his teaching license.
Mulligan enjoys working here at Rangeview High School.
"The best part of my day here at Rangeview is to help and/or work with the students to help them grow stronger," said Mulligan. "It also helps when I work with teachers because I know that they are willing to grow as they help other students grow in their education."