Engineering the future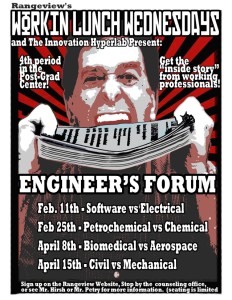 Are you interested in a career in engineering? Wondering what kinds of engineering there are? Not sure of what you want to study in college? The Engineer's Forum might be the answer for you.
The forum is a series of workshops led by practicing engineers and representatives from engineering colleges. Various sub-fields within engineering are presented, along with the key differences between them. Such information will give students a much better understanding in what field they want to go into.
The Engineer's Forum is the brainchild of Rangeview counselor Kyle Hirsch. Hirsch visited several engineering colleges and learned from representatives that many engineering majors go to college with little knowledge as to the kind of engineering they want to work in, or have an incorrect idea on what engineering is. As a result, many change their major halfway through their college career, effectively losing money in those engineering classes and having to take additional classes for their new major.
"This can cause a financial hardship on students who cannot afford to stay in college for longer than four years," explains Hirsch.
Thus, Hirsch came up with the idea of a forum that is a learning tool for prospective engineering majors to provide a better understanding of engineering and its sub-fields.
Hirsch presented the idea to science teacher Bill Petry, who said, "It was an awesome idea."
Together the two worked on the project, eventually bringing in professionals in the field.
"I know a couple of engineers, and they agreed to participate," Petry explains. "We worked with Mr. Rob Epstein from the district and he was able to help out with recruiting engineers and with publicity. It is his picture you see in the poster making lunch out of a stack of papers."
Hirsch states, "Mr. Petry, Mr. Epstein, and I all believe that having this sort of forum would be a great way to expose Rangeview students to more accurate information about engineering sub-fields so that they can then best determine which sub-field is most appropriate for them, thereby saving them money and time once in college."
The Engineer's Forum begins this Wednesday, February 11th (Software and Electrical). The other three sessions are on February25th (Petroleum and Chemical), April 8th (Biomedical and Aerospace), and April 15th (Civil and Mechanical). The forum takes place from 11:30-12:51 and requires sign-up from the RHS website. See Mr. Hirsch in Counseling or Mr. Petry in Science for more information.