Raider football hires Justin Hoffman as new head coach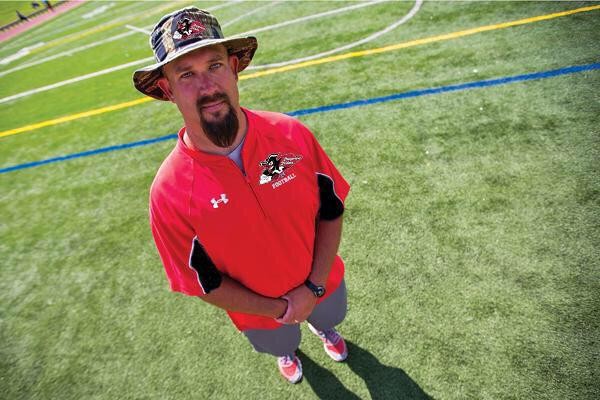 Fulfilling Dave Gonzales shoes as Raider football coach won't be easy, but long time Aurora head coach Justin Hoffman is up for the challenge.
Just announced Wednesday February 11th, the Raider community will welcome a new head football coach, a position that hasn't been filled in over a month.
"He brings a great track record of success, "said Vic Strouse, the Athletic Director at Rangeview High School. "He knows the school, knows the community, and is a good fit for our kids."
Hoffman also coached at other Aurora schools such as Gateway, Smoky Hill, and also teaches at Aurora Central high school. He recently volunteered for the Rangeview Raider football team this past season as a linebackers' coach. As coach of Gateway, Hoffman had several successful seasons, but his teams struggled to beat Rangeview or win a playoff game in recent years. One of the knocks on Gonzales was his 2-9 playoff record.
Hoffman beat out other finalists in Arapahoe like head coach Mike Campbell who is labelled as the "most winningest coach in Arapahoe football history" (according to arapahoefootball.com).
"I think he will be great for the team next year," said Fort Lewis wide receiver commit Arealous Hughes. "He brought great energy and motivating speeches each and every game for us."
Before getting fired as Smoky Hill head coach in 2014 (according to the Aurora Prep Sentinel), Hoffman posted a 2-8 record with the Buffaloes in the 5A Centennial (arguably the toughest league in 5A).
With high expectations held upon the incoming Hoffman as head coach, the Rangeview football team will be looking forward to getting workouts underway again after a layoff.