Leading ladies aren't exactly ladies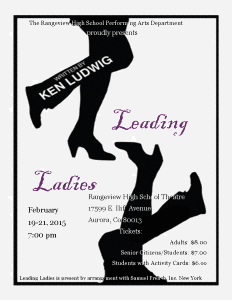 By Sebastian Wiegand, A&E Reporter
On February 19, the Rangeview theater department will open the play, Leading Ladies.  Leading Ladies is about two Shakespearean actors who have fallen on hard times, however luck falls their way. They stumble upon an elderly person looking for relatives to give her inheritance to.  They decide to dress up like her relatives in an attempt to get her money.
"This play will appeal to high school humor," said Junior Kim Mcguire, who is making her theater debut.
The actors are excited about the play opening.
"I am excited to see the audience react to seeing two high school boys dressed up in heels and dresses," said Sophomore Corbin Gertschitz.
Directed by Ryan Hill, Leading Ladies portrays Adam Isaacs and Gertschitz at the center of action next Thursday, Friday, and Saturday in the Rangeview auditorium.