Race to the Rangeview Rainbow Romp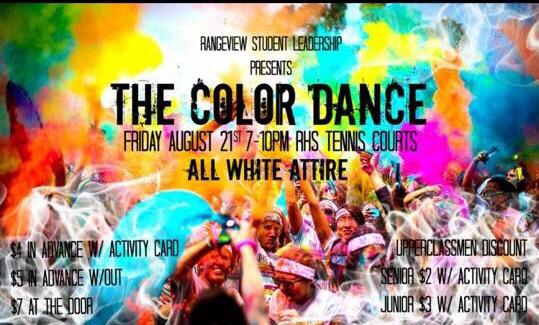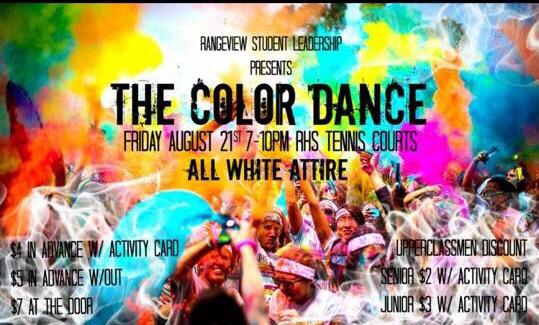 By Savannah Lyman, Reporter
Who is ready to get down and boogie with leadership on Friday night? The annual back to school dance will be held this Friday night from 7pm to 10pm. This year's theme is "The Color Dance". Dry colored paint and powder will fill the air so it is recommended that you wear all white.
Tickets are $4.00 with your activity card and $5.00 without. Upperclassmen will receive a discount, Seniors are $2.00 and Juniors are $3.00 with activity card. All tickets at the door will be $7.00, so get them early.
While leadership is going around selling the tickets, a few students are sitting on the edge of their seats.
"I am just excited to dance with my friends," said sophomore Ebony Garza. "The back to school dance isn't a very popular school event."
"I think students don't really want to go because they think it'll be boring," said sophomore Jasmine Nava, who is in student leadership. "I am mostly excited for the paint throw. Even though it's more of a freshman activity, I honestly believe it'll be fun."
So come join leadership Friday night and  dance the night away.