Rowdy the Raider gets Removed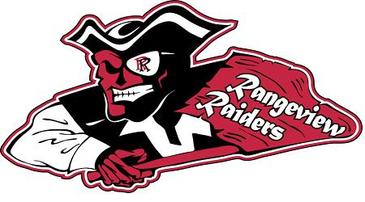 By Hannah Metzger, Reporter
Rumors have been spreading around campus for the past week about Principal Ron Fay's plans to change Rangeview's school mascot. However, RHS students can relax because we are not losing our pirate…Not completely.
When asked about the rumors, Mr. Fay admitted that Rangeview's branding committee was planning on updating our current mascot to something that would, "better represent Rangeview High School."
Looking around campus students may have already noticed the change. The pirate logo has slowly begun to be removed throughout the building and on Rangeview's website.
"For now we're trying to lean towards the double R's for Rangeview's logo, until we decide on the mascot," said Mr. Fay on the decrease of pirates throughout the building.
Rangeview High School is no stranger to mascot changes. In the thirty six years since Rangeview was founded it has gone through various mascots, symbols, and logos. Rangeview's first mascot idea came from the school's athletic director who insisted on being the "Rangeview Rattlers".
However, after a staff vote the "Rattlers" were denied and Rangeview officially became the "Raiders." Rangeview's first mascot was actually a warrior-esque man holding a sword. The logo was later updated and a warrior woman was added beside him.
These warriors were eventually replaced by Rangeview's signature pirate. Which was later changed to the "Jets" and then returned to the pirates after Pam Turner became principal.
Now that Mr. Fay is in charge it is his turn to update Rangeview's mascot. However, Mr. Fay does not plan on getting rid of the pirate symbol all together, just changing it.
"I want to explore," he explained. "Some of the staff and coaches have expressed their interest in a new mascot saying they wanted something different for our shirts and uniforms".
But not everyone is on board with the change.
An anonymous staff member at RHS, was frustrated by this news, saying, "Mr.Fay should be more concerned about our class sizes and less concerned with updating our pirate."
This staff member is not the only person that finds the change to be unnecessary. Many students were also annoyed to hear about the mascot plan.
"I just don't get the point," said Junior Kourtney Grunlien when she was informed about Mr. Fay's plan. "Our current mascot is fine as it is. I feel like there are more important things to deal with at Rangeview than slightly changing the pirate".
However, Mr. Fay claims to have the public's interest in mind with this change. He is even going to allow students and faculty to be apart of the final decision. The new mascot options will not be ready until September and the update will not officially take place until next school year.
Although, when the time comes Mr. Fay says that when deciding on the mascot, "whoever wants a voice will have one." It is not yet clear if there will be an official vote.