Administration Works to Improve Parking Lot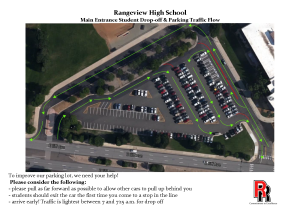 By Schuyler Yager, Columnist
With about 2200 students coming to school every day, the parking lot gets crowded and chaotic quickly. Kids parking, parents dropping others off, and other students walking in is complicating not only the lot situation but also the foot traffic . Our building is only meant for about 1800 students, but it seems the parking lot is meant for 18 people.
Luckily our Administration and Principal are aware of the issues surrounding the parking lot. You can see them out there in the parking lot before and after school armed with traffic cones and hand-signals directing traffic themselves.
Even the Rangeview website now has a page with directions on how to move through the parking lot before and after school days. The administration is really devoted to making drop off, pick up and parking a lot easier and safer here.
I appreciate the effort, but I just don't think it will work that well. It just seems like there is an effort every year, but most of the time it just fizzles out and things go back to the way they have always been. Hopefully, our administration will stay strong-willed battling the traffic and they keep it up until parents, students and busses can keep the chaos out of our parking lot on their own.
Everything looks promising so far and if our staff keeps up the good work in the parking lot, it all should payoff. The Parking lot is chaotic and sometimes it can be unsafe. The effort is well spent making it easier for kids to arrive to school on time and safely.