Opinion: Sexist RHS Dress Code Promotes Prejudice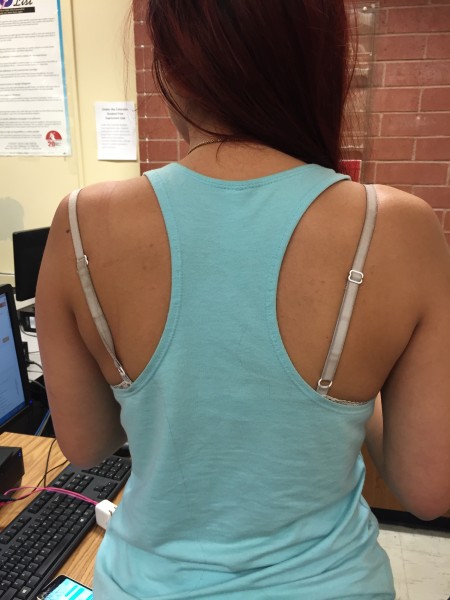 By Hannah Metzger, Columnist
The concept of dress code is simple — students should dress professionally and appropriately while in this professional environment. However, at Rangeview High School the faculty has taken the dress code policy way too far. The current dress code at RHS drastically over sexualizes the bodies of our adolescent students and is targeting Rangeview's female population.
Information from the attendance office provided by Lillie Dean-Hoy stated that last year at RHS, 196 students were dress coded. Over 75% of those students were female. That's approximately 150 female students dress coded as opposed to only 46 male students. And it is only getting worse. Already this year there have been 40 students dress coded, 35 of which were female and only 5 male. Some faculty blame the students for the difference in male to female dress code violations
However, it is not the students that are the problem, it's the system. Female students at RHS are targeted by the dress code, being forced to hide body parts that are nowhere near inappropriate or sexual.
Girls being punished for showing their shoulders or thighs is not only an example of the ridiculous over sexualization of the female body, but it also promotes gender inequality.
By taking female students out of class, sending them home, and even going to the point where they are suspended because their
attire is seen as "distracting" to the male student body, the School Board is valuing the education of male students above the education of female students. Rangeview's faculty would rather have female students miss valuable lessons and class time than risk their male classmates being distracted by an exposed shoulder; which is clearly shown through the 75%-85% of "dress codes" being that of female students.
These double standards are not only unfair, but are unsafe and poisoning the minds of our students. By blaming the female students for their male peers staring at them, the schools are promoting rape culture and victim blaming. They are also viewing the male students as beings of impulse, not able to control themselves or their actions. This encourages the idea that "boys will be boys" and women need to adjust and learn to protect themselves rather than men learning how to control their urges. This unfair and stereotypical view of the students is proven by the recent dress code statistics. Last year, pulling female students away from their education because of clothing over three times more than males shows the student body whose education the RHS faculty prioritizes.
Also, the unequal enforcement of the dress code at Rangeview High School completely ignores females as sexual beings. Taking a walk down the halls at RHS you can see male students wearing shorts, tank tops, crop tops, and sometimes even strutting through the commons after strength class with no shirts at all. But male students are rarely punished over their attire.
"I think that if the dress code is going to be enforced it needs to be enforced equally," said Rangeview Junior, Alexis Andrew. "A guy shouldn't be able to wear a cut out shirt with his stomach and chest hanging out if I can't show my shoulders. The dress code only applies to girls at this school".
Rangeview Junior Mariah Stechelan agreed with Alexis, saying, "I've literally seen guys walk around in speedos, but yesterday I almost got dress coded because my shirt exposed my shoulders. That's ridiculous".
This double standard ignores the fact that adolescent females have sexual urges and impulses just like males. And if male students can be so easily distracted by the female body, than female students can be equally distracted by the male body.
Dress codes are an important and necessary concept for all schools to have in order to keep the environment professional and appropriate. However, the current system is far too drastic and targets the female student body. Changes need to be made in either the policy or the enforcement of it in order to promote equality and the desexualization of the human body at Rangeview High School.
Read the counterargument at: http://rangeviewraiders.info/?p=2578