Rangeview Plays Dress Up for Homecoming Week
By Michael Cordova, Co-Head Editor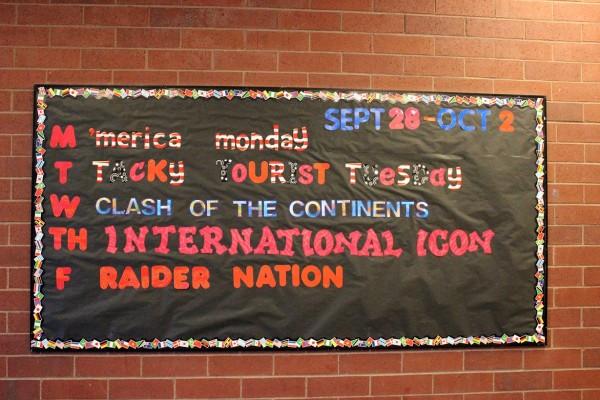 Monday- 'Merica Monday
Represent the country you live in with some red, white and blue! Run through the halls singing the national anthem and prove to everyone how much you love 'Merica.
Tuesday- Tacky Tourist Tuesday
Anything from hawaiian shirts to cargo shorts. Make sure you look like you just stepped off a plane into a country that you can't even pronounce! The most important thing is to have a target brand disposable camera hanging from a lanyard on your neck. Take lots of pictures!
Wednesday- Clash of the Continents
Dress up with the culture of your class's designated Continent
Freshmen- Asia
Sophomore- Australia
Juniors- South America
Seniors- Europe

Thursday- International Icon
Go as an icon that represents the meaning of being intercontinental. Anywhere from world traveling singers to important figures in politics.
Friday- Raider Nation
Red and black school color day to represent your spirit. Friday is the Homecoming Football game at APS Stadium against Hinkley High School at 6:00.
Saturday- Homecoming
Dress up in formal attire and dance the night away from 8:00-11:00