Raiders Dance Away with Homecoming Win
By Sebastian Wiegand, Sports Editor
The stands were full of Raider fans and the scoreboard was full of Raider points as Rangeview won its third consecutive Homecoming football game, with a 41-6 victory over Hinkley High School Friday night, improving to 2-3 overall and 2-0 in league games.  
The defense was once again strong, as they held the Thunderbirds to just six points; however the kick block unit stole the show as they blocked three punts and an extra point, leading to 21 Raider points.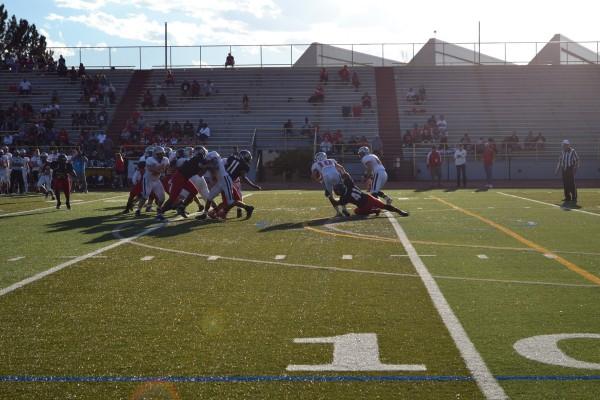 Rangeview kicked the ball to begin the game.  After the first quarter both offenses had punted and the score was 0-0.
The Raiders got it together in the second quarter as they blocked the Thunderbirds' first punt and picked it up inside the 10-yard line.  Junior AJ Thomas put them in the end zone and on the scoreboard with a 1-yard run.  Then less than a minute later the Raiders blocked another punt that was recovered in the endzone by Chance Walker-Chambers to put them up 14-0.  Hinkley put together a scoring drive near the end of the first half to narrow the deficit to 14-6.
The Raiders put Hinkley's hopes of a win to an end after halftime as AJ Thomas and sophomore Jaelin Odegard each ran for a touchdown, and Odegard threw his second touchdown of the season to Senior EJ Reed, putting RHS up 35-6 at the end of the third quarter.
The Raiders added another score in the fourth when Senior Devon Harris found room and made it to the goal line on a 13-yard run.
The offense put the Cherokee Trail game in their rearview mirror as they exploded for 310 total yards led by 176 yards and two touchdowns from Junior AJ Thomas.  The defense once again was impressive as the gave up just 225 yards.  The defense has been a formidable force as of late, giving up just 27 points over their last three games.
The Raiders will travel to the Stutler Bowl on Thursday at 7 pm to take on Smoky Hill High School, as they look to even their record and remain undefeated in league play.  The Buffs enter the game 2-4 and are fresh off of a 30-26 win over Grand Junction High School.