The RHS Varsity Volleyball is spiking a ball to you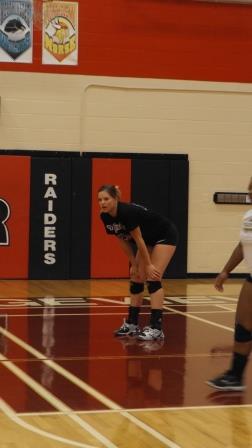 The RHS Varsity Volleyball team is preparing themselves to defend there EMAC title that was conquered this past 2013 season.
 "This season should be fun, with much improvement," said (12) Varsity Volleyball player Shannon Bradford.  Bradford said she's "ready to jump back into the game." said Bradford (12)
 RHS holds a preseason volleyball camp a week before school starts every summer. Where they can better themselves and improve their skills. Connects with their teammates, the team all together, to help each other get back in the game.
 "It was hard to get back in there, I was very sore," Bradford said. You would expect that kind of reaction with the grueling summer off season the volleyball team endured.
 The team had two seniors that left the last season, but this year is where the seniors really do shine. Most of the team is made up of seniors, which adds  great experience to the varsity team.
 "This season is bittersweet," said Bradford, "But there is plenty of opportunity for college volleyball." Even though this is her last high school season, with her past record she will surely have great chances in college.
"Our confidence is high going into this 2014 season" said Jackie McBride (11)  This summer the  DU and UNC tournaments put us right back in the game. We came in 15th place out of 80, which was a victory for us" said McBride.
"We've filled the positions that were lost last season" said McBride,  The underclassmen have really stepped up on the team.
http://www.maxpreps.com/high-schools/rangeview-raiders-(aurora,co)/volleyball/home.htm
The team seems to be confident and ready for the 2014 season.