Bowling club doesn't spare any opportunity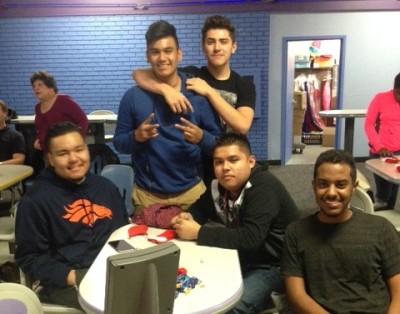 By Hannah Metzger, Reporter
One of the least advertised clubs at Rangeview High School is the Bowling Club. Although, Bowling Club has been active at RHS for 5 years now, very few students know about it; nevertheless, it is a club worth looking into.
Sophomore James Bullock has been an official member of the Bowling Club for the past two years. "I enjoy bowling and even if you're not good you can learn and hang out with friends and eat food."
The RHS Bowling Club is currently run by Mrs. Blessing, a math and ED2020 teacher at RHS. They meet ten times a year, one Friday every month. Meetings last from 3:45-5:30 at Brunswick. The cost per meeting is $5.00 for shoe rental and 3 games. The schedule of future meetings can be found on Rangeview's website.
"It's a nice time zone," explained Blessing. "Kids can come right after school and still be free to go to football games or basketball games or dances later that night."
"We actually bowl," said Blessing. "We have different contests. In November if you bowl 3 strikes in a row which is called a 'turkey' then I buy a turkey for your family, or a ham. Your choice. We have crazy contests. If you bowl a split, if you leave the head pin, if you get one gutter ball per game. It's mostly just for fun. It's just to improve your game."
One does not need to be a professional to go and have fun and bowl.
"If you've never bowled before then we'll help you," added Blessing.
There are currently 12 active member of the RHS Bowling Club; however, the number of participants at the meetings fluctuates each month. Many parents and siblings of students bowl with the club — the number of people per meeting could be anything from 8 to 30 people.
"I have been a member for about 2 years but I had gone to meets before I was in high school because my older brother was in it… That's the reason I joined," explained Bullock. "I always invite people to come."
If one is interested in joining Rangeview's Bowling Club they need to fill out a permission slip that can be picked up from the office. For any further information, contact Mrs. Blessing in room 240 or before or after school. The meeting dates for the rest of the school year are February 12th, March 18th, April 22nd, and May 13th.