Boys Basketball tips off the postseason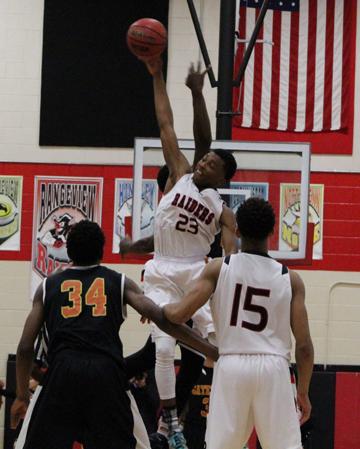 Feature Image by Sebastian Wiegand: Senior EJ Reed wins the jump ball against Gateway.  During the regular season Reed averaged 16 points and 7.5 rebounds per game.
By Jorion Marshall, Reporter
The Rangeview Raiders are heading into their first playoff game this weekend hot off an undefeated season. The Raiders are the number one seed in their bracket, and will take on the Chaparral Wolverines who had a regular season record of 8-15.  
A 23-0 record is what the Raiders stand behind currently and going into this match-up they are predicted to take the victory. According to MaxPreps, the Raiders are predicted to come out on top 75-54.
This isn't the first time these teams have faced each other in the post-season in recent years, and most likely this won't be the last. The Raiders faced the Wolverines in the 2013-2014 season in a tough battle leading to double overtime. Through it all, the Raiders came out on top as the victor in that Sweet Sixteen playoff match-up to advance to the Great 8 at the Denver Coliseum.
The Rangeview boys have high heads as the game approaches, with their focus on the prize. One one these players is Marquis Kraemer.
"The main focus is really to just come out with the win, and as a team we know we know we can compete with any team in the state," states Kraemer, "So as long as we play the way we know we can, we will be fine."
Senior Kris Hollins shares a similar mindset, and is prepared to take on the opponent as a team.
"To really make sure that we execute the plays. Teams really have been watching us and our film trying to learn everything." Hollins mentioned, "As long as we execute we will be fine and come out with the win."
Although the records are different, these teams have both made it to the playoffs. There is a lot at stake in the playoffs; each team must go big, or go home.
Junior Matthew Johnson prepares to block everything out as he goes into this game and uses the critics as his motivation.
"I think the motivation will stem from all of our doubters who think we won't make it far." Johnson remarks, "And I think we are motivated by the support from the school and how long it's been since this school has gotten a state championship."
The Rangeview Raiders will tip off against Chaparral in their first playoff game this season at 3 pm tomorrow afternoon.