Track sprints out of the blocks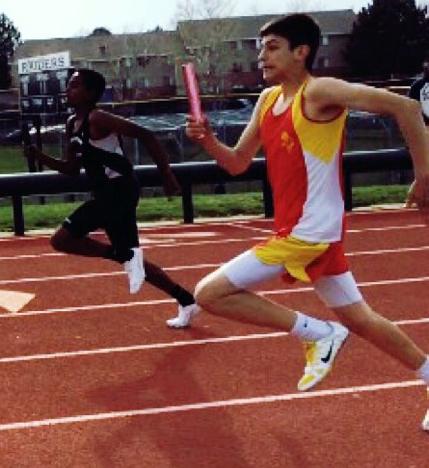 Feature Photo by Jorion Marshall: Samir Mohammed sprints neck and neck with a runner from Northglenn.
By Jorion Marshall, Reporter
The spring sports season is in full swing this March, and Track is one of the most anticipated sports to watch. Both track runners and multi-sport athletes will take set and race towards success for the Rangeview Track & Field team this year. With strong returning seniors and underclassmen Rangeview will be full of talent.
David Aggrey who is also a sprinter declared, "Track is the foundation of all sports." Aggrey is a three-sport athlete and explains that track contributes to other areas.
Rangeview started out strong in their first track meet on March 12th, 2016 and placed 9th out of 22 at the Columbine Invitational.
Sprinter Samir Mohammed states, "As the days grow we get better." The track team has continued to work hard and improving each day.
The track team would have had their second meet on Thursday, March 16th, but due to  transportation issues, the team was not able to make it to their first meet. Although this was a setback, the track and field athletes will displayed their hard-work again in the Aurora City Championships on Monday, March 21st. The team ended up placing seventh out of eleven.
The Rangeview Raider Invitational will be held on Tuesday, March 29th at the Aurora Public Schools Stadium.