Lady Raiders dribble towards the top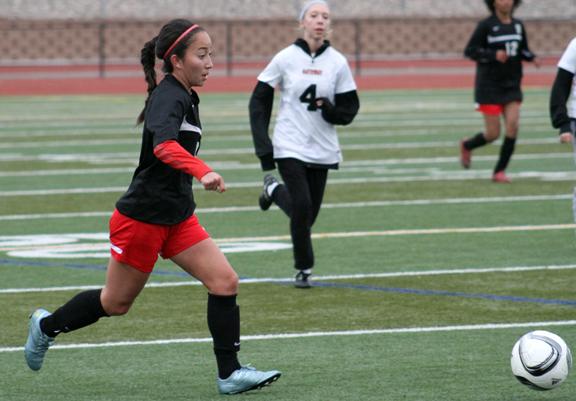 Feature Photo by Vincent Tran: Senior Nicole Perez kicks the ball against Gateway. Perez has four goals for the Raiders this season.
By Michael Johnson, Reporter
Girls continue their season and it is proving to be rather difficult. The team is currently 6-3-2 and in league they are 5-1-2. The lady Raiders are currently sitting at second in league. However, this season doesn't shadow the past seasons where the lady Raiders were the dominating team. The lady Raiders were league champs three years in a row, before taking third place last year, and they are now in second place, behind Brighton, who are 8-1 in league.
Senior Nicole Perez who currently has 4 goals says "At first It was a little hard adjusting to the team but we have grown and have been steadily improving."

The girls have recently defeated school rival Gateway, with an astounding 8-0 score, the girls have improved to second in league because of this win after being in lowly fourth place just two games ago.
Junior Captain Rachel Vincent who has netted 6 goals says "I've had the pleasure of being captain and continue to work hard to bring culture and keep the team growing in all aspects. I am excited to continue into the season because we have seen a lot growth"
The girls will take on Overland high school tommorow at 11 am. In their final week of the season they will be tasked with taking on Eaglecrest, followed by the third place team in league Northglenn.