Audio streaming blocked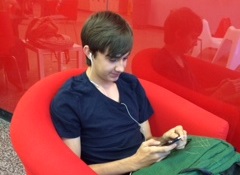 A constant flood of music streamed online has been relied upon by many students to surge through their headphones, alleviating the pressures of the average school day, but students must find a new source for this music—a source that does not rely on the school's network. Aurora Public schools has passed a new policy that restricts students from using the district's network for music streaming sites such as Pandora. Despite the misinformed belief that the district has enacted this new policy to censor online use, Business teacher Randy Mills states that the policy was created in order to diminish the unnecessary strain on the district's bandwidth.
Bandwidth is what is responsible for the capacity of internet connection, and when it is taken up by actions such as audio streaming, it is unable to be used for academic purposes. The restriction on music streaming has already contributed to a more reliable internet connection; Mills reveals that "normally our bandwidth, when I would run a test would be less than five megabytes per second. Right now, it's running on fifty, and the only thing that's different is we're not streaming audio."
Many Rangeview students are unaware of the ban on music streaming, let alone  the motive behind this decision and that it was a district wide resolution. When informed of the effects on the school's bandwidth audio streaming has, senior Natalie Klecker expressed her opposition but said, "I see why they did it."
Mills was quick to say that students can log onto the school's wifi for a better connections, citing the instructions that are readily available to students and staff on the Rangeview website.