Freshmen Cheered for Homecoming Points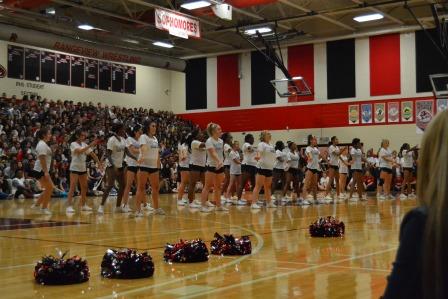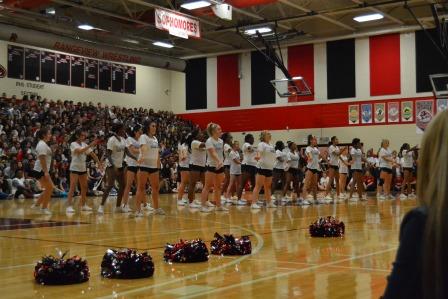 By: Lauren Arnold Co-editor in chief
As students begin to adjust from sleeping in and hanging out to rising early and buckling down, it is apparent that the new tradition of welcoming the freshman class at the first day assembly rather than booing it has had a sustainable effect on Rangeview. Principal Ronald Fay and the RHS staff have successfully broken the discouraging tradition of booing the incoming freshmen by incentivizing the student body with homecoming points.
The custom of booing new freshmen at Rangeview has persisted simply because no one has attempted to break it. "They boo simply because that's what people have always done… I don't think it was done completely out of disrespect," says Fay.
Though possibly devoid of intended malice, such booing can negatively affect a freshman's first experience of Rangeview. "If I'm… a freshman walking in and I don't really know the culture yet of Rangeview, how does that feel? That was a piece of our culture that I wanted to put away," states Fay.
In order to achieve this goal, students were prompted to provide freshmen with a genial welcoming through the promise of 100 homecoming points to whichever class cheered the loudest. The sophomore class ultimately gained the homecoming advantage, out cheering both the junior and senior classes.
In response to the new change and recent victory, sophomore Scott Bradford says, "It made us [sophomores] feel better about ourselves; we felt like we were better than the upperclassmen… we all got booed, I felt that we would have booed them if we hadn't gotten points. I feel traditions need to change after time."
Psychology teacher Ms. Kasi Mireles acknowledges the positive outcomes of the new tradition, explaining the psychology behind the incentive.
"Instead of to just tell kids to stop booing or punish kids when they boo, what [Mr. Fay] did was he offered a reward for cheering. That's an excellent example of positive reinforcement, and it seems like it worked," says Mireles.
As Mireles goes on to state, this year's Freshmen class will be less likely to boo the class of 2019, leaving room for newer, much more positive traditions to be established here at Rangeview.