Finalists Approach College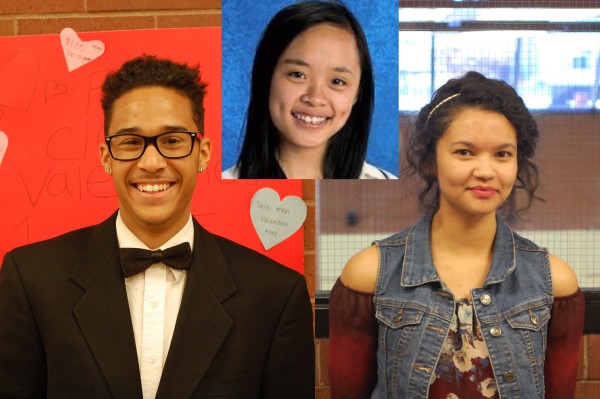 The Boettcher and Daniels Scholarships are two intense scholarships for graduating high school seniors. The Daniels Fund Scholarship has given over 108.5 million dollars in undergraduate scholarships to more than 3,000 students. The Boettcher Foundation, which has been around for an impressive sixty years, has awarded more than 65 million dollars in full ride scholarships to any 4-year college in Colorado. Two students here at RHS, Lauren Arnold and Anna Phan, are finalists for the Boettcher Foundation Scholarship, while two more, Juwan Harris and Luke Robinson, are finalists the Daniels Fund Scholarship. How do they feel about what they have accomplished?
Anna Phan says, "I feel so honored to be even considered. It did not even hit me that I was a finalist until people started coming up to me and congratulating me." The realization of accomplishment is a fantastic feeling. Even becoming a finalist is difficult when it comes to the Boettcher Foundation Scholarship. This is a full ride scholarship to any four year college is Colorado, so there is a very intense process to get as far as Phan and her fellow students.
"The initial process took a while with all the essays," says Lauren Arnold. Arnold believes that her recommendations were what got her this far, but she is also nervous about the final interview that will decide who ends up with scholarship. Anna Phan also attests to the difficulty of the application, stating that, "It was long. I had to think back on all the things I had to do since freshman year. It was also nerve wrecking." Phan says that relying on her teachers to put in a good recommendation was difficult, especially because she likes to see herself as independent. Each of these students highly suggests the Boettcher Scholarship to anyone who wants to apply.
Lauren Arnold desires to go to CU Boulder if she wins the Boettcher, while Anna Phan wants to go to CSU Fort Collins.
Now to the Daniels Fund. Unfortunately, the Raider Review could not interview Luke Robinson for this story because he is doing good work in Kenya. Juwan Harris says that as a student, he had been following the Daniels Fund Scholarship program since before freshman year. Harris says that the application was, "Pretty long with an entire six essays and a few letters of recommendation." Although Harris thinks that the process was long, he does say that the application "was not terribly difficult."
The Daniels Fund Scholarship is not full ride, but rather it pays for everything after what the government and the student can pay for. So, after the FAFSA, any other scholarships a student wins, and whatever the student themselves can pay for, the Daniels Fund will cover all the rest of any further schooling.
Juwan Harris suggests the Daniels Fund to any student who can apply. Harris says that the Daniels, "looks past grades and GPA." This scholarship is perfect for any student who wants to go to college. Harris hopes to attend his first choice school UCLA, but will fall back if he needs to on CU Boulder.
These students are all proud of all of their accomplishments, as they should be. Each of them has worked hard to get where they are, but each of them has one final interview to attend to decide who wins each scholarship. We wish good luck top them all, and hope to see them flourish in their success.