Success repeated, state to go
Featured Photo Provided By: Coach Carhart – The team poses after securing both EMAC league championships on Saturday, May 11th. This is the second consecutive year both teams have won both league championships.
Another impressive season has almost been completed by the RHS track and field, which has secured them the EMAC league championships for the second consecutive year. But for the 18 RHS track athletes heading for state this weekend, there is still one big competition left.
The boys team won league last week against Gateway, who came in second with 164 points. Rangeview racked up 205 points, capping a 41-point victory. The girls also took first place with a 6-point thriller win over Brighton in the 4X400 with a score of 207 to 201.
The team is lead by Coach Carhart, who is very proud of all of his athletes, "Track really is a team sport and they've done a good job of embracing that," he stated," thanks to that we've managed to secure another team championship."
The team also had an astounding list of awards: 45 All-Conference honors and 23 1st team All-Conference honors.
Many of the track athletes performed well this season: Narthe Berhe, Rashid Seidu-Aroza, Grace Solarin, and Ayana Brown are just a few that stood out. In fact, Brown set the league record in the long jump with a 6th round winning jump of 18'3.5″. Also, Daisha Scoggins was named Field MVP for her versatile performance, taking 1st Place in the Pole Vault and 7th places in both the Shot Put and High Jump.
The team is currently preparing to take the stage for state, "We have really good runners and team chemistry all around, " said junior runner Golden Watkins, " there will be a lot of competition but we are ready for it."
They have a lot of momentum after finishing league which will help them prepare to compete. " The confidence we are carrying right now can't be matched. We have an amazing team, I'm expecting big things for us in state" said junior Jacqui Lee-Ricks.
Members from the team will compete on May 15th, 16th, and 17th in the state championship at Jefferson County Stadium: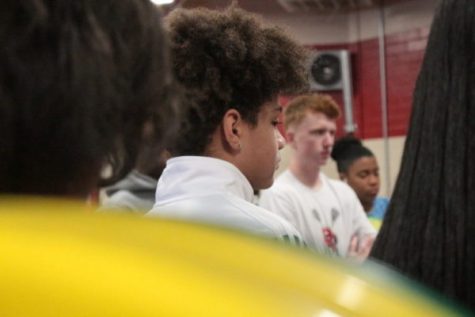 Boys High Jump– Kobe Frazier, Gabe Kreimeyer, Ethan Fray
Boys 400m Dash– Jacqui Lee-Ricks
Boys 300m Hurdles– Neveh Jones
Boys Triple Jump– Kobe Frazier, Braidon Nourse
Boys Long Jump– Kobe Frazier
Boys 4x100m Relay– Davon Desmond, Jacqui Lee-Ricks, Ethan Fray, Rashid Seidu-Aroza, Alternate- Tre'Vion Weddington
Boys 4x200m Relay– Davon Desmond, Jahmir Baker, Jacqui Lee-Ricks, Rashid Seidu-Aroza, Alternate- Jeremiah Reed
Girls 100m Dash– Dawnie Lewis
Girls 200m Dash– Dawnie Lewis, Ayana Brown
Girls Long Jump– Ayana Brown
Girls 4x100m Relay– Ayana Brown, Jaedyn Martin, Jasmine Bowman, Dawnie Lewis, Alternate- Kh'Miah Vaughns
Girls 4x400m Relay– Zulema Salazar, Golden Watkins, Jewel Watkins, Jasmine Bowman