Round of applause for the girls
Feature Photo By: Stephanie Pickens – Varsity girls played against Gateway on April 18th and won with a score of 9-0. 
The Rangeview Girls soccer team had a better season this year compared to last year. There were only 6 seniors on the team this year. They ended the season with eight wins and 7 losses. Last year the girls won 4,  lost 7, and tied 2 games.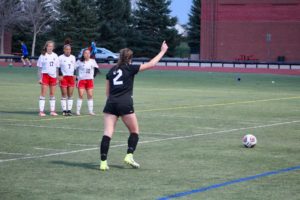 This year was Mike Boyle's first year taking the head position coach for the girls soccer team. He had a lot of experience coming into the season. He is also the boys soccer teams JV coach and the assistant coach as well on the varsity team.
"This year was a pretty good season," stated varsity coach, Mike Boyle, "We had a winning season this year and beat 3 teams we didn't beat last year."
Although the girls had a good season this year, there is always more room for improvement.
"If we had more attendance at practice we could've done better," said Coach Boyle.
The girls believe they could've done more to have had an even better season than they had.
"We had a good team chemistry this year, but we could've had an even better chemistry," stated varsity junior, Beatrise Martinez, "Chemistry is the key to a successful team."
Many people say this year was a pretty good season for the girls soccer team and was a big improvement this season.