Raiders Spiking into a New Year
Just as sure as the leaves will fall from the trees every Autumn in Aurora, Rangeview volleyball's EMAC opponents will fall. Since joining the EMAC a decade ago, Rangeview has dominated the league, racking up an 83-6 record, including five league titles.
The 2018 squad went 18-7, losing the EMAC championship tie-breaker to Brighton, and falling short in a difficult region. The team will look different, adding seven new faces to the varsity squad, but is expecting nothing but success like the teams of the past decade. This year's team is younger and is looking to prove themselves. 
Junior Amari Bullock believes in this year's squad, and the potential success they can bring. "We are a much younger team than last year and we are continuing to build a bond that will result in us in winning many more games as a team this year," said Bullock. 
The team has already gotten to a great start with a 2-1 record with wins against Aurora Central and Denver South and is also ranked as a top team in the state of Colorado. The team is continuing to prove that this year is different.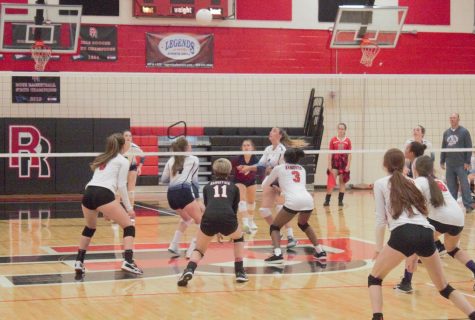 Sophomore Isabella Garcia said, "We are going to execute and play our game, I believe we can win." The culture of this year's volleyball team is more positive and they are looking to do very big things.
According to Head Coach Doug Walker, the team is taking it one game at a time and the team's goals are to win their league and make a good run for the State Championship. He says "Well… to win our league and to make a good run for state of course." Although this tends to be a goal for every team, this year's volleyball team is making it an expectation.
The Rangeview volleyball team played against Dakota Ridge in a very difficult battle. The girls worked as a team and used their pure talent to give it an all-out battle on the court. Although they put out a great effort, sadly the girls lost 3-1.
The ladies are looking to bounce at their next game against Gateway, September 5th, at Gateway High School at 6:30 pm. For the Rangeview girls volleyball schedule, click here.