Rangeview Welcomes New Counseling Staff, Who Welcome you
In order to fill the positions left vacant by two staff departures to rival Gateway, Rangeview brought in one new face and two familiar ones to keep the Rangeview counseling office thriving. 
Within the first weeks of school, you have probably recognized some old faces around the school, but there are also some new faces in the counseling office that have yet to fully introduce themselves. This year we have two new counselors Mr. Abraham and Ms. Chiu. As well as a new CC coordinator, Mrs. Meyer.
Like some staff at RHS, Mr. Abraham has lived in Aurora most of his life and graduated from Rangeview in 1995. After high school, he went to MSU and came back to Rangeview. 
He says, "Originally I chose to come here because I needed to find a place to do internship hours and Rangeview had night school at the time." 
From there he started working at the night school that Rangeview was offering at the time. At first, he was working as an assistant and then after a few years, he began teaching. 
The program was going away for the most part and since he did so much related to counseling, he felt like it was the right time to switch. He got his counseling degree seven years ago and when this position opened up, he decided to take it. He felt that he would be the most useful to the RHS community if he took the job of a counselor due to his strengths and interests.
Mr. Abraham knows that a counselor isn't just helping with academics. He wants all students to know that they can confide in him.
"My goal as a counselor is to do whatever I can to help students be successful, whatever that looks like for them," he says. "I know a lot of times people just need someone to talk to, so we're not just here for scheduling, we're here to talk and be a support person."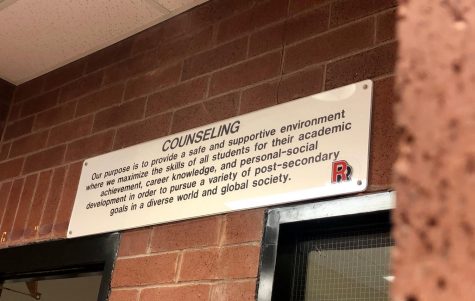 Mrs. Chiu grew up in Virginia and did her undergraduate program at James Madison University and went to The University of Virginia for graduate school for counseling in education.
She started as a middle school counselor in Virginia, however, a few years ago she visited Colorado and lived here for a year. From there on, she found her love for Colorado.
"I loved it," says Ms. Chiu, which then led to her moving to Colorado. "There was a great opportunity in APS and there was an opening at Rangeview. When I interviewed with the team, they were awesome; it felt like a really great place to be." 
Something that she would like all students at RHS to know is that "they are valued, loved, and they are important." She also adds, " I'm here as a resource for them. It's a safe place to come and just talk to process and work through anything that's going on."
Her passion for working with students makes her a great addition to the Rangeview family. " I would love for students to just come say hi so I can get to know them," says Ms. Chiu
Although she's not a counselor, Mrs. Meyer is also a new addition to the staff. She's the new College and Career Center Coordinator and a Rangeview alumni. She stayed in Colorado for most of her life getting her masters degree at Jones International University — which does not exist anymore.
Initially Meyer was interested in pursuing education. However, her outlook on the educational field changed during the end of the 2011 recession, where getting a job in education was hard. 
"I left to go be a trainer in the corporate world because the money was better to be honest,"she said.  
Ultimately, for her, at the moment it came down to pay. After being in the corporate world for many years, Mrs. Meyer wanted to go back to education. "Helping kids who were just like me, figure out what they want to do, was like the perfect job for me."
Like the counselors, Mrs. Meyer welcomes all students to sit down and talk with her about their future. "I don't expect you to walk into my center and know exactly what you want. I want you to come down and talk to me… Just talk about where you want to go eventually. I don't expect you to know all the answers, no adult does, we just want to help you get there."
Overall, the new counselors and Mrs. Meyer are looking forward to working with all students to fulfill their needs in order to create a happy, healthy, and successful environment at Rangeview. Right now is a great time to get to know the staff and what they can do for you during your high school career.