"Walk the Plank"
A Preview Into This Year's Marching Band
On June 3rd, the 2019 season for the Rangeview Marching Band stepped off —specifically on their left— to the brand new performance. After consecutively having a not-so-good placement in their competition scores years prior, they have a new outlook this year. 
With a sneak peek, their show entails a 'pirate' theme, called "Walk The Plank". With fight scenes, quick movements, and intensity, this is a show you wouldn't want to miss. Many performances of this show are found at competitions around Colorado, and during halftime at Rangeview's home football games at the APS Stadium. 
For those who don't know how a marching band works, a normal marching show traditionally has three to four segments in the show, where there is a short break in-between them all before kicking back into gear. The band often makes shapes when moving around the field with specific marching techniques, having to memorize imaginary spots on the field called 'sets'. They look up to someone on a podium while performing to keep time in their music. This person is called the 'drum major', and a marching band normally has one to four of them. 
A marching band consists of instruments you can march with, such as trumpets and clarinets; these are called the 'winds'. There's the marching 'battery', meaning people who march with drums like quads, snares, and bass drums. Also, the 'front ensemble' or 'pit' who don't march, but play stationary percussion instruments, like marimba, gong, or chimes. Lastly the 'color guard', which are the people who wave flags, fake rifles, and sabres as well as dance, all for the visuals and actions that prove an aesthetic for the band.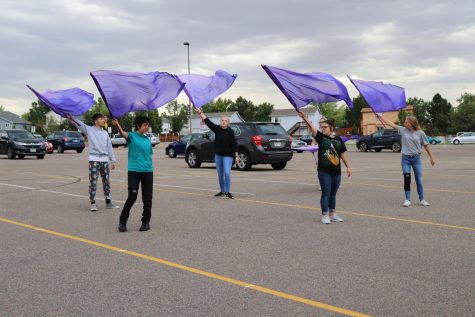 Matt Haislet, the band teacher and marching instructor for Rangeview, is writing the show alongside Danny Barsetti-Nerland, the front ensemble director; Andres Garcia, the color guard instructor; Ed Breazeale, the battery instructor; as well as the head two drum majors. Seniors Aida Wates and Katherine Finell are excited to be giving the band something to keep count on, as it's their second and final year being drum majors. 
Wates and Finell both take their turns on the quads. Wates starts off on them, soon switching with Finell in the middle of the performance. That way, they both have a fair shot at participating and leading. However, being a drum major is so much more than conducting. It involves leadership, planning, studying, and charisma. 
"The best part is seeing others grow and seeing myself grow as well," Wates said. "Seeing people that I never thought I'd be friends with be a different person after a while because they feel accepted is really rewarding."
Wates and Finell strive to be fantastic role models, being interactive Rangeview students. Both of them are in over four other activities involving Rangeview — and they want it to connect to their future careers. To Finell, being a drum major has changed her into a different person in a good way.  
"If you look at me in class freshman year versus now, I'm an entirely different person," Finell stated. However, music had played a huge role too. "Seeing it come to life from a sheet of paper is so crazy to me. Also, performing makes me feel something unexplainable. It's a huge creative outlet."
Even the director, Dr. Matt Haislet, decided to give his opinion on the show. "I don't know how the season will go. But we are far better than we were last year," Haislet gleefully explained. "Compared to last year, this is night and day." 
He doesn't like to think about the score they will get. Rather, he likes to keep his outlook positive and appreciate every good moment the band has.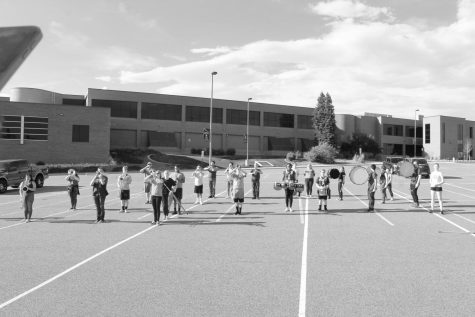 Given that it's a pirate-themed show; there's some scrutiny on deck. However, the only way to find out this fantastical plot is to see it for yourself. The marching Raiders prepare for the CBA Regionals at Littleton Public Schools Stadium on Tuesday, October 15. Other competitions they will compete in are the Friendship Cup at Englewood High School on Saturday, September 7; as well as Legend Marching Festival at Echo Park Stadium on Saturday, October 5. Prices may vary. You can also find them at Rangeview football games during halftime alongside Rangeview Poms and Cheer.