Bring in the Heat
Those hot and pointless summer days are over and our Rangeview girls are ready to get back in the dugout.  The Varsity Softball team has ten returning varsity players and three new players—Gabriella Martinez, Jasmine Favela, and Mikayla Brown.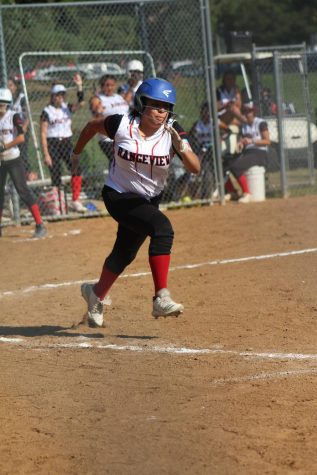 This year Rangeview began with a clean slate and the softball team was no exception. "All the [bad] attitude is gone and we have a more well-rounded team," states Katiana Williams, captain of the softball team. 
Last year, the varsity softball team ended with a 3-7 record in league and 6-14-1 overall. This year their goal is to try and compete for league, "We are hoping to compete for a league title against Brighton or Prairie View," states Kyrah De La Paz. Brighton's varsity softball team has won league titles eight years in a row. 
Currently, Cassie Pearson stands in ninth place in ERA (Earned Run Average) leader and twelfth place in wins.
"We are really excited about the softball team, they're off to the best start and they work well as a team," mentions new Athletic Director Shawn Palmer, "Ms.Robinson, Ms.Williams are your players to watch out for. The softball team is carried out with good leadership." 
Last year Rangeview's goal was to have more wins than losses and so far the girls have accomplished that with a record of 5-0 under their belt. Rangeview is currently in third place for EMAC and an RPI standing of eleventh place. Don't miss this catch, go on and support our softball girls.