New Era for Boys Tennis
The Rangeview boy's tennis team is back and swinging. The tennis team is three games into their season and has an overall record of 0-5. Rangeview tennis got seventh out of eight in the Smoky Hill Amy Howe Memorial Tournament. 
To some, the team may be off to a rough start; however, they have undergone some changes in leadership. The team has said goodbye to some star seniors and coaching staff. The boy's tennis team is now being coached by Matt Feria, a Rangeview Alum who graduated in 2013.
Coach Feria is hoping to not only make individuals reach their potential but also to build the program and its respect. 
"I'd definitely like to build more of a commitment to the program," said Feria. "I think tennis is one of those sports that kind of float under the radar and I think a lot of people join just because they think it'll be fun or it will fill a P.E credit…" 
What Feria mentions is true, tennis is an easy P.E credit, but with true commitment to the process and to the game, Rangeview boy's tennis could be so much more.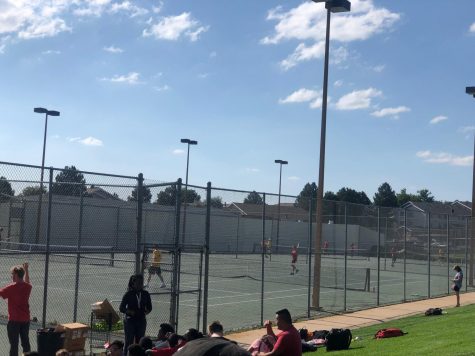 A few athletes that have shown their commitment and talent on the Rangeview tennis team are captains junior Caleb Urban and senior Eric Huynh. Urban is the #1 Singles player and Hyunh stands at #2 in Singles.
"[Eric] is a very strong player and very strong leader," Feria comments.
Coach Feria had years of experience as a leader when he was apart of Rangeview's Student Council/Leadership, so one of his core values is being a leader, and having good leaders on the team.
Feria voices that Urban is, "…a really solid tennis player and he's been playing for a while. He's really dedicated to the game has a good understanding of it, he's a great teammate as well and a great leader for the team."
The team is not solely focused on winning, they hope to build the program into one that people feel they would like to contribute to, hence the heavy amount of freshmen and sophomores that can really make an impact.
Senior Evan Weiss says, "This season has been super fun so far and I feel like the team is improving pretty fast."
Coach Feria and the tennis team hope that in the years forward they can create more culture for tennis at Rangeview High School. The team's next match will be on Monday, September 9, 2019, against Thomas Jefferson. For more information on Rangeview boy's tennis click here.