Cross Country is Striding Through the Season
The Rangeview Cross Country team is back in action and many say this season is going to be an interesting season. This season, the team lost their two state-qualifying runners; Luke Sundberg and Tesamicheal Wolde. Tesamicheal Wolde graduated last year and Sundberg transferred over to Valor.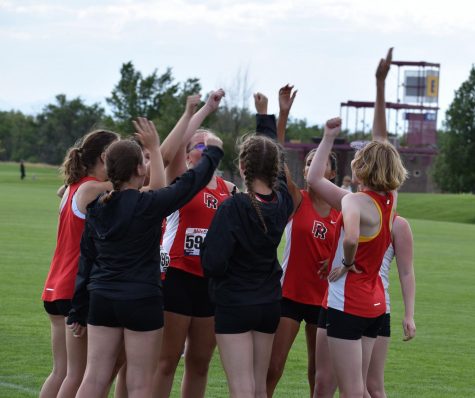 "I think it (losing Luke) will affect how well we perform or how much effort is put out from the team. I'm positive we can still dominate the competition," said senior captain Mahayla Griggs.
In the past two years, there have only been two runners on the team to make it to state. And both of those runners were Luke Sundberg and Tesamicheal Wolde. In 2017, Sunberg made it to state and finished 68th with a time of 16:54.8. In 2018 both Sundberg and Wolde made it to state and they took 159th and 45th place.
This year, many say that the boys' team has some very strong runners and believe some can even make it to state. During the Aurora City Championships, two of their runners placed in the top 15; senior Ryan Slocum took 8th with a time of 17:16.90 and senior Aaron Brown took 12th with a time of 17:28.80. Both of which are qualifying state times. 
Senior captain Ryan Slocum said, "I want to go to state and be an EMAC champion."
Slocum's personal record for a race was 16:17.50 and if he ran that in the state meet last year, that would have put him in 9th place in the state. With the times he is currently running, he could place anywhere between 40th to 120th in state. 
As for the girls' side, sophomore Chloe Wetzel and freshman Avani Huston have the top two times on the team. Wetzel took 16th at the Aurora City championships with a time of 23:15.10 and Huston took 25:24.40. 
Slocum stated, "the team's goal is definitely to win the league championship this year." 
The boys' team has won league for the past two years and many say the girls are looking to get one too.
"I think that we can win league on the boys' side, it just won't be as easy. As for the girls' side, I think that they can compete and this year is a lot better for them because they are actually showing up and getting noticed," stated coach Maes. 
Their next meet is today, September 10th in Elizabeth. 
To check out the cross country schedule for the rest of the season or look at the players, check out Colorado Mile Split.