Staff Profile: Third Time's the Charm
Lisa Grosz is back again at Rangeview High School for her third time. Starting out as a student and moving her way up each time, she has come back and is now the principal of the school.
Grosz (a Rangeview alumnus) graduated 10th in her class in 1989, served as student body president her senior year, and excelled in her two main sports: softball and basketball. 
In college, she began to study criminal justice because she knew she wanted to be involved with people and with kids, but later switched to education as she realized she wanted to work with kids "before they got in trouble." 
Grosz started out at Rangeview as a social studies teacher for a number of years and then became a dean of students for two years. After that, she was the assistant principal for eight years. This is all while still being at Rangeview. When Grosz' husband suddenly passed, she left Rangeview and her decision carried to her to Murphy Creek P-8 where she was the principal for 10 years. 
"I had a three year old and was pregnant with my son at the time. As they started to grow up, it was hard to balance what my kids wanted to do and yet continue to support my colleagues and the students here at Rangeview. For me, it was a big decision to leave and it was really because of that life change that happened. I needed to take care of my family at that point, and still do what I love to do with kids," Grosz commented. 
Presleigh McEwen went to Murphy Creek since kindergarten and is now a Junior at Rangeview, so she has known Mrs. Grosz for a while and has been able to experience her as a principal.
McEwen said, "I'm so glad Mrs. Grosz is here. I know that she is very good at her job and is going to make Rangeview better than it already is. The fact that she's also a Rangeview alum proves that she obviously cares for the school enough to come back again." 
Grosz said that her years at Murphy Creek were special, but she has always felt like a Raider. She explains she'd still continue to get on Twitter and watch how Rangeview was doing with all of their games and read about what was happening at the school.
Grosz said, "I always feel like I've been cheering Rangeview on from the sidelines. Even while I was gone and at Murphy, I never felt so disconnected from the school. Being back here feels comfortable and like I'm at home." 
"My first impression of Mrs. Grosz is that she seemed to be very chill and seemed like she wanted to be involved with students. She seemed happy to be here as well… if she can listen to the student body and make accommodations to make the school the best it's been, then she will be a good principal," Guereca said.
The philosophy Grosz has about being principal is to complete the ultimate goal- which is for kids to be successful. Grosz wants to help continue to provide as many opportunities and skills as she can for kids to graduate and prepare for what they do after high school. Whether it is students going to college, or whatever career and pathway they choose, she wants to make sure they have everything they need to be successful in their next step. This is just one of her focuses for being the principal. 
This year, Rangeview won't see massive changes in the school because it's Grosz' year to figure out how things have changed since she left. Another focus she has is around the new graduation requirements and concurrent enrollment because that stuff just wasn't around when she was here for the first time. She's overall trying to figure out things to do differently or to do better.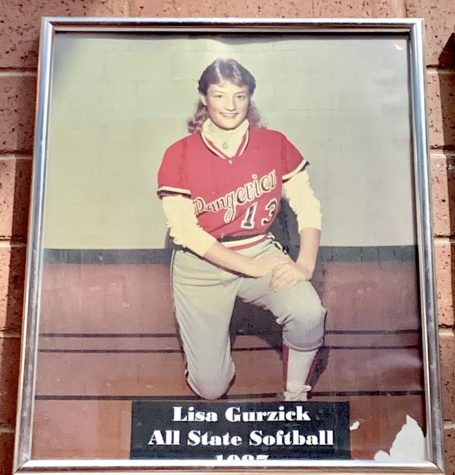 "I hope I impacted Rangeview each time I was here- as a student, as a teacher/dean, and now as a principal. I hope for as long as I'm here that we- and I say "we" because it's not about 'Lisa Grosz and what she did', it's about the team around me- can put something in place to really help kids. If I leave, I hope there's some programs in place that are good and make sense for kids and that will continue on," said Grosz.
Becky Buttshaw, who is now Rangeview's bookkeeper, was the secretary of Murphy Creek for four years, but worked there for a total of eight years has a good insight on Mrs. Grosz.
Buttshaw said, "She's fair, kind, and a good leader and those qualities make her a good principal… She loves Rangeview, so when you love something and you're passionate about it, then it's not so much a job." 
When not doing principal things, Grosz does a lot of activities with her kids. Activities outdoors make her happy: hiking, camping, fishing, and more. She also loves to read. 
McEwen said, "This year is honestly the best because of the fact that Mrs. Grosz is here. She brought the new bookkeeper, who I'm very close with. I'm just so glad to have people I've known for a long time be here because I know it'll make the school even better."
Each time she was at Rangeview, Grosz worked her way up in authority and many people would say she continued to be successful in each position. Many people would also describe her as a strong person and very successful.
Grosz said, "I love highschool kids. Highschool has such a cool vibe to it and Rangeview is a special place. The staff, students, and this whole community really rally around kids and wanting kids to be successful. Wanting to do something new and challenging in a place that I have a heart for is really why Rangeview is great and why I chose to come back here."
"It's so awesome to be back. One of my most favorite things about Rangeview is that spirit of being a Raider. Having that pride and such pride is the Raiderway- it's huge and it's awesome, I love it."