Girls Softball Receives a Grant
For years Rangeview's softball facilities have looked closer to a third world playground than a softball facility, but with Coach James Manu and new athletic director (AD) Shawn Palmer, they are burning the midnight oil in hopes of adding dugouts to the Raider softball field. 
This year, the Coach Manu has been writing several grants in order to get his team equipment and try and get money for a dugout which has been promised for several years now and has become a Title IX issue. 
With the new version of Mrachek being built last year, Rangeview's field situation was thrown into chaos and former AD Vic Strouse, an outspoken advocate of Title IX, was faced with constantly changing plans and empty promises from above. 
School spending opponents might not be in favor of dugouts for a softball field, but those close to the game would disagree. A dugout puts coverage over players heads when they are playing, giving them cover from foul balls and weather conditions.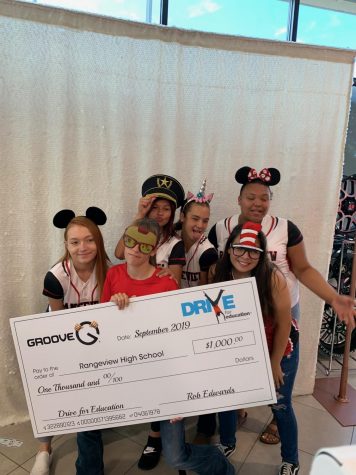 "I remember when Coach Paul was here saying that we were going to get a new dugout each year and now with Coach James we still hear that were going to get one; it's a little disappointing to see that throughout my four years, I didn't get to play with a dugout," said senior Janeigh De La Paz.
Softball players sit out in the sun playing for seven innings, there is no time period, meaning a game can range from 30 minutes to three hours or more. Sitting in the sun for three hours after running and working out is not recomendable nor ideal. This just takes away more energy from the players and they then can not compete at their highest level.
Title IX, a federal ammendant to the Higher education Act written in 1972, states, "No person in the United States shall, on the basis of sex, be excluded from participation in, or denied the benefits of, or be subjected to discrimination under any educational program or activity receiving federal assistance." 
"It has been talked about for years that it is a title nine issue, and I'm really not sure when it will be handled," said assistant softball coach Melanie Flynn.
Title IX states that no person and or team should be discriminated based on gender and that the benefits of each gender must be equal. So whatever the boys basketball team gets, theoretically the girls basketball team should get the same benefits, the same thing for tennis, golf, track, etc. Furthermore, the behemoth that is football can often complicate the equitable equation. 
However, here at Rangeview, RHS softball would argue that has not been the case for softball and baseball. The baseball team has had a dugout since the school was built in 1983, while the girls softball field has been there the same amount of time they still haven't received one.
This year is James Manu's second year as a head coach and Melanie Flynn's second year as an assistant coach, as they replaced head coach Paul Reli. Throughout their two years, they are still trying to get money for necessary things so nobody really knows when there will be a dugout. 
"Coming into the season last year, we had to use so much of the budget to get so many supplies that were taken by the previous coaches," said Flynn. 
According to Flynn, upon Coach Reli's departure, uniforms, supplies, and more were severely lacking or simply missing. Therefore, according to Flynn, the first year that Manu and Flynn were coaching Rangeview they were spending the little budget they had on balls, tees, nets, and other basic needs. This year the team donned new uniforms.
For nearly two decades, the athletic director at Rangeview has been Vic Strouse and after his retirement last year, Shawn Palmer took over. Earlier this year, Palmer walked the fields with the coaches and noticed that there were some safety issues and when I asked him about how he felt about the equipment he addressed his concerns.
"I felt like we have some work to do to provide an environment of safety and balance," said Athletic Director Shawn Palmer. 
On September 17th the team was asked to go down to Grove Ford to receive a grant of 1,000 dollars that Coach James had applied for last February. 
"I'm proud of coach Manu and the work that he put in to get that because I know those aren't easy to get and I was happy that it could benefit the softball team," said Palmer.
The coaches said the money from that grant will go towards the basic needs of the team such as field maintenance.