EMAC Domination Doesn't Get Old
It would be an understatement to say that Rangeview has been pretty dominant in the league we currently play in for sports. Rangeview has been playing in the East Metro Athletic Conference or EMAC since 2010. The only sports that don't play in the EMAC are the football team and the golf teams. All other sports have been contributing to Rangeview's dominance in the EMAC.
There are a lot of different stats and records that prove Rangeview's dominance in the EMAC. One of the main examples of this is boys basketball. The boys basketball team has an overall record of 91-2 in the EMAC which comes up to about a 98% win percentage. The current run we're on is a 57 EMAC game win streak and we haven't lost a game in the league since 2013.
Volleyball is another example of pure dominance in the EMAC. Volleyball has an astonishing record of 85-6 since the beginning of the EMAC. That adds up to a 93% win percentage for the Raider Volleyball players.
Both of our soccer programs are thriving in the EMAC as well. Boys soccer has a 77-8-6 record, while girls soccer has a 67-15-6 record.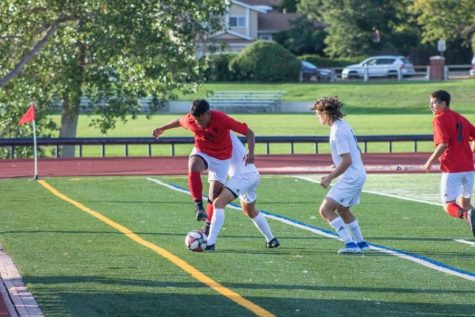 Other sports that have overwhelming winning records in the EMAC include girls basketball, baseball, girls tennis, and girls swimming. Boys tennis also has an above 50% winning percentage at 10-9. Boys cross country has won back-to-back-to-back league championships. Track and field is a little different because of meets. Track has finished 1st in 6 out of 16 meets, and the only sport not above a 50% win percentage for wins and losses is Softball, sitting only 4 games under .500. 
Rival games are always a huge event in high school sports. Rangeview has a "rival" if that's what you want to call it in the EMAC. Our rival is Gateway High School. All of our sports combined against Gateway are 87-20. Rangeview dominates not only in the league itself but also against rival schools.
Does playing in the EMAC hold our sports teams back at all?
Junior soccer player Ivan Serrano said, "Playing in the EMAC has challenged us before, but we've still been able to get prepared for the playoffs."
Allison Powell, a senior volleyball player at Rangeview believes playing in the EMAC somewhat holds the team back. "I definitely think it has held us back because we weren't able to play good teams consistently and we can't grow to be better because of that," Powell stated. "Also, whenever we go to regionals we have a difficult time because we don't play teams that prepare us for those we play in regionals."
Maybe dominating teams all the time isn't the best thing for Rangeview's sports programs. Although our league can't be changed ,for the time being, there have been talks about trying to change leagues. But for now, the Raiders are just going to keep working to continue their dominance.