Seidu-Aroza, Soccer's Silent Assassin
Captain, senior, and all-time leading goal scorer in Rangeview history Rashid Seidu-Aroza has scorched the turf for Rangeview soccer week-after-week as he never ceases to catch the spotlight.
Seidu-Aroza currently is leading 5A with 33 goals in 13 games. In 2018 he had set the school single-season record with 27 goals in only 17 games.
Seidu-Aroza's game pairs a combination of explosive pace and physical prowess with a great feel around the box ruining the days of defenders and goalies. The record-setting forward finds ways to score in the air or from distance, particularly with the help of Braidon Nourse and his state-leading 13 assists.
Seidu-Aroza isn't alone in his family in scorching the turf at Rangeview. He carries on a bloodline of talented athletes, including another Rangeview student-athlete who had a similar spotlight on them. The Football 2010 Gatorade Player of the Year Jaleel Awini, Seidu-Aroza's cousin, was a three-sport athlete and "One of the greatest athletes in Rangeview history," according to his quarterback's coach Jon Sobolewski.
"Rashid reminds me of Kawhi Leonard, he is quiet and humble off the field but on the field, he is a lion, he smells the blood and pounces on every opportunity," says Jaleel Awini, "He is a killer out there! I'm proud of my cousin, he is carrying the family tradition of great athletes at Rangeview! I can't wait to see what the future holds for the kid!"
Awini currently plays professional football in Europe, after playing at the Air Force Academy and CU.
However, following in his cousin's athletic footsteps Rashid Seidu-Aroza in no way feels pressure he says, " I just play the game because I love the game and my passion for the game is great."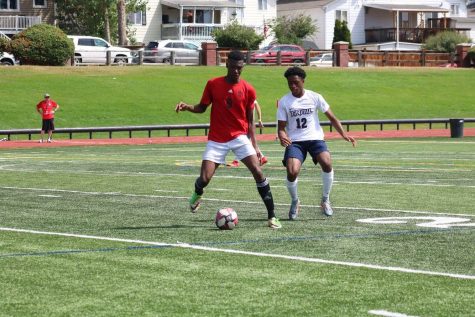 Seidu-Aroza simply is a young man who grew up loving this exciting sport and has been lucky enough to be as successful as he is currently in his career saying,  "I just play to play for fun and do what I love."
Teammates agree Seidu-Aroza manages to stay humble and give his all into the Rangeview team, despite his outrageous goal-scoring numbers.
Eljadji Diallo, a teammate and good friend of Rashid Seidu-Aroza comments, "Rashid is a good captain, he leads by example through the way he plays and the way he is focused." Despite changes in the school and specifically its athletics, he doesn't let that distract him from his personal goals for himself and his team.
The Rangeview soccer team sits #4 in the EMAC standings at 9-3 overall and 6-1 in the league, with several crucial contests down the stretch as they fight to bring the league crown back to Rangeview. 
With the attention that comes from being so talented and being as it is Seidu-Aroza's senior year, he naturally dreams of continuing his great career has crossed his mind. 
"This is something I want to do for the rest of my life," states Seidu-Aroza, " if I get the  opportunity to play in college I will take it otherwise, I would pursue a career in environmental science."
Regardless of where his high school soccer career takes him, Rashid Seidu-Aroza will never lose sight of his education and the opportunities Rangeview is giving him.
The Rangeview soccer team has an away game today, October 22nd at 6:30 pm where Rashid Seidu-Aroza and his talented teammates take on Prairie View. Click the link here for more information on the Rangeview soccer team.