Are you proud to be a Raider? Yes, you should!
"Go mighty Raiders! Put them to the test! With our colors flying, red and black will be the best; go, fight, win!" 
Since entering Rangeview High School, the first thing you are taught is RHS's fight song. From the first assembly, to the homecoming assembly, new students get a feel that the school, staff, and upperclassmen have lots of pride in being Raiders. However, once you look at events such as sports games, performances, HOCO week, etc., you notice that a good portion of students don't seem to care enough to try and have spirit or participate. But why? 
Being involved in your community is a great way to make memories, help others, and improve in many aspects of your life. We think that students should at least try to actively participate in school events. 
Valeria Acosta RHS Sophomore:
As a freshman last year,  I wasn't involved and didn't go to sports games, performances, or joined after school activities. I didn't want to, I thought it wouldn't be fun, or there was no point. The only main thing I participated in was the homecoming dance. At the time, it didn't seem like a bad decision; however, since starting my sophomore year I've gotten really involved and regret not participating earlier. 
By joining marching band, I got to talk to many new people who became my friends. I got to attend football games, and it also made me proud to be part of a Rangeview team. It gave me more opportunities to join other groups such as pit for the Suessical and Christmas Band for a former Rangeview symphonic band member. 
For homecoming this year, I dressed up with my friends and went to some of the lunch and night time events. Overall, participating and having spirit at Rangeview made me more happy at school and wanting to be more involved.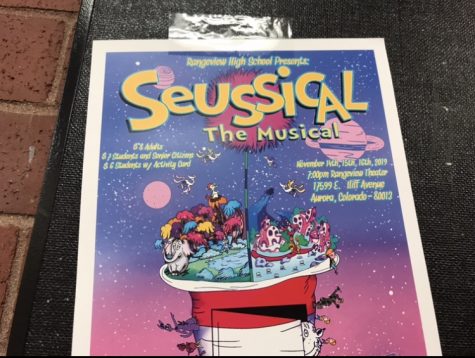 Joslyn Bowman RHS Sophomore:
Before I even came to Rangeview, my older sister was a part of student leadership. I remember watching her and her friends come over to the house and spend time making different costumes for homecoming dress up days. From that day on, I couldn't wait to come to high school so I could have that same experience.
For the past two years, I've been in student leadership, so I've always had quite a bit of spirit and participation.
My freshman year, I dressed as the strawberry from Cloudy with a Chance of Meatballs and Sully from Monsters Inc, wrapping up the week in knee high red socks, a red tutu, and red lipstick plastered in dots over my face. Sophomore year, I dressed up in Hawain luau clothes, a playing card, a cowgirl, and my personal favorite: my red shoes, red socks, red shorts, red shirt, and red tutu, and face paint for spirit day. 
Even though it is expected of leadership students to be at least a little dressed out for dress up days, I would still participate even if I wasn't in the class. High school is something that you can only do once — so make the best of it. 
Homecoming:
Even with the biggest homecoming in the state, many students at Rangeview can agree that a large portion of students lack school spirit — not just during HOCO week, but year round. This lack of spirit connects to a larger problem of overall lack of participation in anything at RHS. 
We get told all the time to get involved in our community; by joining clubs, sports, other events such as musicals, watching performances or attending dances. However, many kids don't listen to this advice. It's not the school that's the problem, but the students. Staff put a lot of effort into planning these homecoming events along with leadership kids who stay at school for hours and hours setting up. 
Varsity brands reports that The Harris poll, a insights and analytics headquarters in New York, surveyed 1,016 high school students, 315 parents of students, and 150 high school principals. The research showed that compared to other students, kids with a great deal of spirit tend to be about 88% happier, overall performing better academically and are more civically engaged. 
Bob Gardner, former Executive Director of the National Federation of State High Schools as of April 2018 said, "having seen firsthand the coordination between student achievement and higher levels of school spirit…these activities build a student's self-esteem and confidence as well as provide lifetime memories."  
"I feel like that's what makes high school fun; like in that moment when you go to games and stuff, you don't have to worry about all the homework and all the stress. You can just focus on being with your friends and the game," said Danielle Volden, a sophomore and a student in leadership. 
Sports and Events:
In early 2019, our Raider boys basketball team won the 5A state championship against Chaparral High School. For playoff games, students boarded the spirit bus, decked out in white and red, and drove down to the Denver Coliseum. At each game, we out spirited the other crowds by singing out fight song and various chants all the way through the state championship.
One of the most crushing feelings is when you have no support. At Rangeview as a whole, there has been a lack in attendance to sports. 
"People go less for some sports because where there is a lesser skill level, the game is less interesting, which doesn't make sense because lower level games are sure to attend and they are free," said sophomore volleyball player Ciara Andrew.
Female sports overall have less attendance too — it's just not right. In Southern California, women account for over 40% of athletes, yet they only get 4% news coverage. Why is it that women get less support when they are just as hardworking as men?
Aliya Jones, sophomore and JV basketball player said, "honestly, it's kind of annoying but because I feel like depending on what sport it is and who we're playing, the games can be just as interesting."
Not just sports, but our arts program is under supported as well. Band, choir, and theatre have performances throughout the year, and they are highly unrepresented. 
All events should be equally supported, whether it be a football game or a choir concert. Support should be felt throughout the school, and people aren't doing enough to be there for their peers. As high schoolers, we should be there to cheer on our teams through tough games, but we should also be there to enjoy the hard work it takes to put on a play at RHS. 
Participation isn't always needed: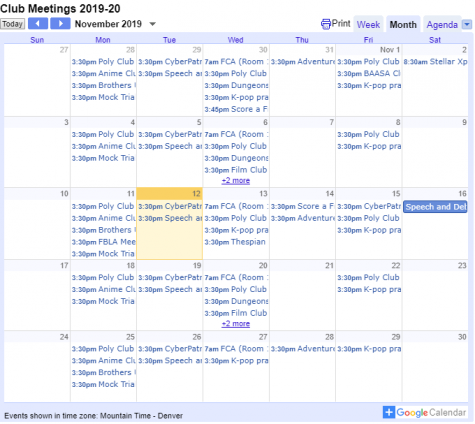 "I think they're [people who participate] cool for wanting to get more involved in school but I don't understand why they want to put so much effort into something," sophomore Breawnna Curry said. "I don't want to commit to something that I don't think will be that fun. I guess if you want to get into a good college and have a good resume, but for school I think you only need to do decent in your classes." 
The students who have this mindset don't understand that if you put effort into something such as school, it can become more enjoyable to them instead of just going because they have to. They also can't judge the event and say it won't be fun because they have never tried it; it's one thing to go and realize that that specific setting isn't for you but another to just demean it based on no experience of it.
It's also not entirely about getting experiences from clubs, sports, and extracurriculars to get into a good college, but the memory and fun of being with others that have the same interests. If you just go to school from 7:30 to 3:21 everyday and spend zero hours on
anything outside of those times hosted by Rangeview, it's boring and you're spending your time on something that probably won't benefit you now or in the future. As high schoolers, you have the time to at least attend one sporting event or school event in the nine months that we have school.   
You're not too cool to dress up for spirit days. You're not too busy to not show up to at least one of the athletic games in the year. You're not too cool to support the arts program at Rangeview. High school is something you only get to experience once, so live life to the fullest. Go all out for spirit days with your friends — it's fun. Go to a red out game and scream your lungs off to support athletics — it's a once in a lifetime experience.  Buy a ticket to a musical and enjoy the talent that our school has, because RHS has so much talent. 
Be proud of your school, be loud for your peers, and participate.