The Marching Band Wrap Up
Five months, more than 160 hours of work, three competitions, over 16 competitors. The Rangeview Marching Raiders have made the most significant change they had in years. While they aren't the best in the division, they proved the judges and competitors wrong.
Starting last year at the Colorado Bandmasters Association (CBA) Regional, the Rangeview Marching Raiders scored a 48.50, which is decent.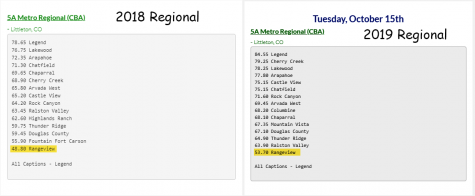 At the Friendship Cup 2019 — a competition where they see their progress — they scored a 43.65, a good start for the season. 
At the Legend Marching Festival — which was on the day of Rangeview's homecoming — they scored 50.00.
Lastly, at the CBA Regional for 2019, they had scored a whopping 53.70. While they had found themselves in fifteenth place, they still had the motivation to keep going.
However, the marching band isn't all sunshine and rainbows. Small bands often get criticism and judgment. Due to the smaller size of some bands, they're highly underestimated since it's easier to see the flaws than the bigger picture.
"Marching season definitely had its low points for a lot of reasons, but in spite of that, I think everyone grew as musicians," said Senior Taryn Cooper, a trumpet soloist. "it made me very excited to stick with music in the future," she continued.
One freshman, Emmalee Woolwine, a color guard member, had joined marching band this past year. "It has definitely been rough at times with all the practice, but it helped me feel like I had a second family," Woolwine voiced her opinion on how the season benefitted her. "I felt more confident in starting my freshman year out, and it helped me feel more 'me' in a way."
Many have been there for all four years, sticking through a change of directors when they were Juniors, like drum majors Aida Wates and Katie Finell. Likewise, Senior Carlos Heredia marched for all four years.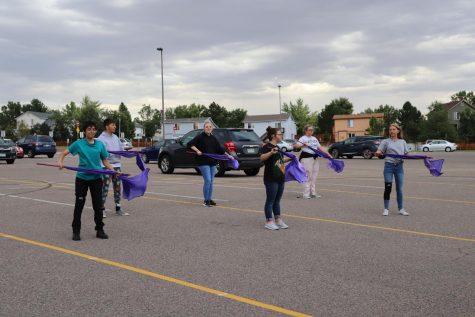 "I'd say this season is the best I've had in my high school career. It really made me who I am today," Heredia said. "Band meant so much to me, and I wouldn't trade the experience for anything."
As for everyone else, they're sticking through for another year. With eighth-graders joining the mix next year, the Marching Raiders have their head held high. If you would like to join the Marching Raiders for their 2020 season, contact Dr. Matt Haislet, music teacher and band director, at [email protected].