Hit or Miss: The Little Mermaid Live Action
In honor of the 30th anniversary of The Little Mermaid, Disney fans all over the U.S. were excited to see one of the original, most beloved Disney princesses come to life in ABCs never before seen live action performance of The Little Mermaid. Hoping this live action event could top the somewhat O.K. 2009 Broadway version. 
Honestly, I had no idea what to expect or how they could uphold the high standards of the 1989 film. The live action performance faced some backlash even before the night of November 5th. Twitter was bombarded with harsh tweets stating strong opinions of the ethnicity of the cast (but that's a whole other story).  
The production as a whole was put together in a hybrid format basically combining the animated film with the broadway musical. This tactic wasn't all that great, especially because during the animated and dialogue parts there was a little countdown bar counting the seconds until the next live performance; letting the audience know when the entertaining parts would start. Sure this method worked for hyping up the moments before the act, but it kind of took away from the animated experience. Then again if they were to just base it off performances it would be just like the musical.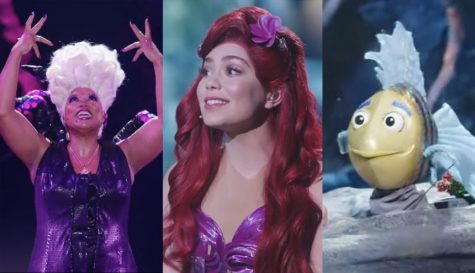 The set and production designers did an amazing job capturing the color and feeling of Disney's vision was from 1989. The props along with the sets gave the animated version shame. It truly captured the "under the sea" experience. Being a fashion fanatic, the cast set costumes were breathtaking; you could tell even the most "basic" were made thinking about every minor detail. 
Nonetheless, the very much talented cast made the live performance worth watching. The producers did a wonderful job picking well known celebrities who have amazing voices. Some of the cast included Auli'i Cravalho as Ariel, Queen Latifah as Ursula, Shaggy as Sebastian, and Graham Phillips as Prince Eric. These very esteemed actors portrayed their characters to the tee. Their performance brought endless nostalgia to everyone watching.
Overall, ABC's never before seen The Little Mermaid Live! was a hit.