Decisions Decisions: Rangeview Signing Day
It's become that time in a senior's life where they need to make a decision on factors that play into their future. Some seniors have majors to think about, others have a quality of living on campus; then, there are athletes who have to consider it all, including where they choose to further their athletic career.
Wednesday, November 13th, a few of Rangeview's finest athletes made a decision on where they plan on furthering their schooling and athletic career.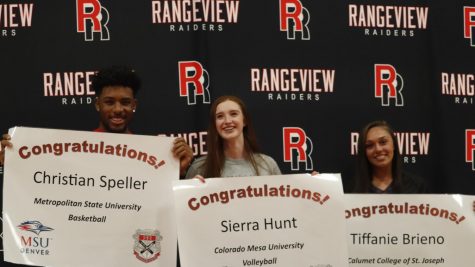 Tiffanie Brieno
Senior Tiffanie Brieno signed and finalized her decision to continue playing softball at Calumet College of St Joseph in Whiting, Indiana. Brieno has made her mark at Rangeview and is able to continue to work on her craft. 
"I signed to Calumet College of St. Joseph because not only could I receive the degree I've always wanted and play competitive softball, but also because of how student-athlete based the school is. Most of the school was made of student-athletes so you're surrounded by people with the same goal as you," says Brieno.
Brieno was able to hang out and practice with the team and build a connection that she mentioned also influenced her decision. Her decision became a no brainer when she discovered the college itself is about 5 minutes away from Lake Michigan and not too far a distance from Chicago. With all that in mind, she says, " I knew I would stay busy for the next 4 years." 
Sierra Hunt
Sierra Hunt creates a legacy of killer volleyball skills as she broke the record of kills with 377 along with so many more successes. She has signed to Colorado Mesa University in Grand Junction, Colorado, both close and far from home Hunt is able to further both her athletic and career ambitions at the Division II university. Colorado Mesa University is one of many schools that provide the best education for Nursing and obtaining a Bachelor of Science in Nursing–which Sierra Hunt wishes to study. 
Hunt mentioned, "I really like their nursing program because the actual building actually used to be a hospital so they have everything and it's really hands-on."
All in all, Hunt's decision was locked in because of all her experiences and opportunities, "I went to a lot of camps over the summer and I like the coaching style where they are friendly but they are not afraid to push you," says Hunt.
Christian Speller
Christian Speller, a state champ and dedicated basketball player, has signed to Division II school, Metropolitan State University of Denver. Without a doubt, Speller has sparked motivation and dedication to and for his team in his four years as a starter at Rangeview. 
MSU which often hosts many games with Speller, and many others, has provided the player with a great opportunity.
 "They are offering me a full ride and that was the main thing, it's always a good opportunity to go to college for free and plus its a good basketball school, " says Speller, "it's also a pretty good business school."
 Business is a potential pathway for Christian Speller in his journey after high school.
Congratulations to these Rangeview athletes for there accomplishments, and best of luck for your futures beyond Rangeview High School.