Blessing Bags
For many years, Rangeview has been host to grand ideas and projects, many of which have taken off and created even more inspirational movements. One that has taken off in the last year has been Blessing Bags, a service project created by Landon Steinkamp with the help of the National Honor Society (NHS) and Kurt Siebethnal.
Blessing Bags were first introduced in April 2019, when Steinkamp was finishing up his junior year. The overall purpose of the project was to create bags consisting of toiletry items and food that would be prepped and given to those experiencing homelessness here in Colorado.
Last Spring, Steinkamp was able to create over 200 bags with the help of some NHS members and many donations.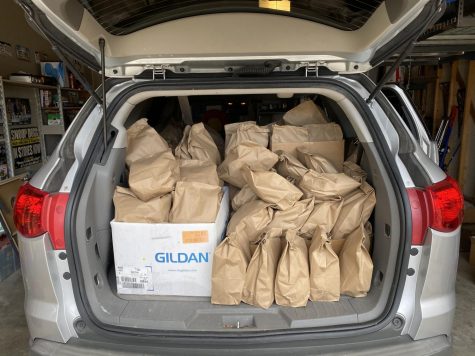 In this new school year, Steinkamp came into his senior year with bigger goals. He was able to bring back the Blessing Bags, but now with a goal of 500 bags. On Saturday, November 18, 2019, Landon Steinkamp and a small group of current NHS members handed out over 500 bags containing:
Turkey/Ham sandwiches

Toothbrushes & paste

Shower gel

Shampoo & conditioner

Socks

And more
"What inspired me was I had originally done a project a few years ago and it was just about 20 bags, but I figured that I could make it a bigger thing and help out more people," says Steinkamp.
The recent project has opened the eyes of many and sparked creativity in the minds of many RHS students. Advisor Kurt Siebenthal commented, " Landon's Blessing Bags project is a very successful program because he had to take on a leadership role  in order to focus people around him to help and tackle all aspects of the project." 
With all that being said, many have said Steinkamp has been motivated throughout the process to do more and develop the project itself to accommodate people in need as best as possible. 
"Landon continues to learn something new each time he raises funds, organizes volunteers, and assembles bags for the homeless. It wasn't just a one time project. He continues to do it again each season. It's really great for NHS because it has inspired other members to take the initiative and start a project on their own," says Siebenthal.
This hands-on project was a way of not only doing something great for his community but a way for Steinkamp to gather those around him in a time of thankfulness to provide those in need with something special. 
NHS President, Kyah Caley, was one of a few students apart of the Blessing Bags project, "This experience was one of the most humbling experiences I've ever had. It really taught me that I need to take more time to appreciate everything I have," Caley continued, " when we first started I was really sad, but as the day progressed I was happy that I had the ability to brighten other people's days."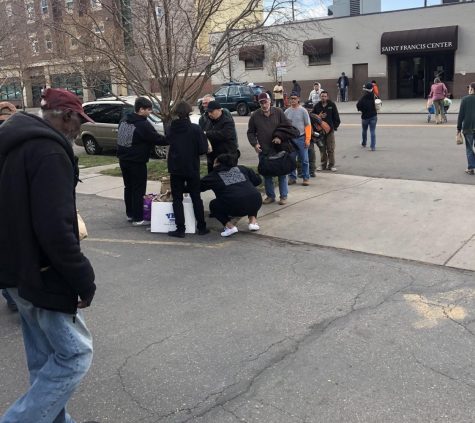 As mentioned previously, this project is not just a one time project, it is constantly being refined and open to new ways of helping people in our community.
 "I do plan on going bigger, I hope to achieve a thousand bags in the spring," says Steinkamp.
Some say Landon Steinkamp has worked hard to define the meaning of leadership and its importance in our world today. His end goal is to help as many people as possible and be an example, if not an influencer to those who wish to do good in the world.
If you wish to help Landon Steinkamp and or National Honor Society with projects and community service feel free to reach out to them with any ideas at [email protected] or [email protected].