Education, not Confrontation; Rangeview's Approach to Hate Speech
With the recent upheaval of hate speech and rhetoric occurring in places of education, many students are wondering how Rangeview handles these criminal acts within the school. 
News outlets have been blasted with situations of hate speech across the nation and even in Colorado. Both Colorado State University – Fort Collins and the University of Colorado – Boulder  dealt with media attention to blackface incidents as well as the use of derogatory terms towards students of color. Both cases happened this school year; the most recent act of hate speech was in the New York institution: Syracuse University where multiple acts of violence regarding anti-Semitic graffiti and anti-black hate speech flooded the campus.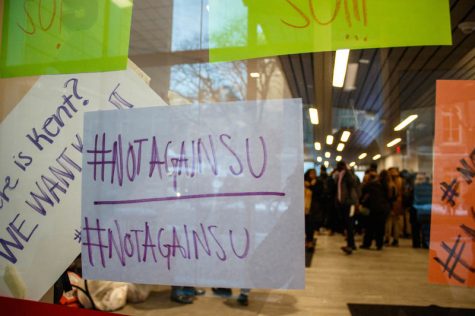 The consensus appears to be that Rangeview does an adequate job compared to most schools with inclusion considering the diverse population inhabiting the school. 
However, hate speech is not an exclusive act happening in universities, at the end of November in the No Place For Hate training at Rangeview, a student made claims of instances happening at Rangeview targetting the LGBTQ community.  
Many students have also spoken about the racial slurs or commentary that they've seen or experienced, sophomore Sami Addi said, "last year in my chemistry class we were watching the [weekly] wrap and a kid said [that] only the white people are educated in this country … that really offended me not just as a person of color but as someone who always tries to be educated… he was devaluing my opinion." 
Last week, classroom instruction was put to a halt as news about a white student saying the n-word broke out in a predominantly black classroom.
This raises the question: How does Rangeview handle hate speech?
"Rangeview is a No Place for Hate School … Hate comes in all kinds of venues whether it's written, said, etcetera… we don't tolerate it," said veteran Dean of students Mr. Anderson.
Although school administrators are bound by law to keep the details of these situations within the school quiet due to FERPA (Family Educational Rights and Privacy Acts), they also assure that these incidents are handled in an appropriate manner, as Mr. Anderson suggests.
Rangeview admin appears to pride themselves on a restorative justice system which is mainly handled by Assistant Principal, RyAnn Jaiyesimi, and Dean of Students, Delisha Boyd. 
Restorative justice is a behavioral management system not based solely on consequences and punishment, rather it also includes the ability for those being punished to learn from their mistakes and grow as people in their community.
One of the restorative methods used at Rangeview is the mediated circle. As a student, I have participated in the circle before and, in the aforementioned incident where a student used the n-word, I was able to observe the circle. 
The mediated circle took place in the classroom and every student, even if they were not a part of the situation, was asked to participate. There was a talking stick being used and three main questions were posed in the circle: What happened? How did you feel about it? And what are some solutions?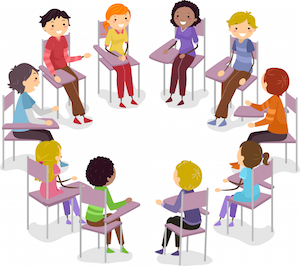 The mediated circle, in this instance, took two days to finish and took place a few days after the incident occurred. The goal of this circle was to learn about each others' experiences and how race plays a role in how individuals feel about the n-word being used.
"Anytime there is hate speech, we investigate what was said to get the full capacity of what was happening, from there, there's a multitude of consequences," said assistant principal Jennifer Rahn.
In this instance, the consequences other than the mediated circle are unknown; however, in other instances of hate speech at Rangeview, a common consequence is suspension coupled with some form of educational requirement to grow from these incidents — like the circle. 
Since Rangeview is diverse, administration takes any incident very seriously. "In order to get along, we need to get along with the four-letter word which is love," said Anderson. 
Whether the tactic of restorative justice works for handling hate speech is debatable. Some students who participated in the circle spoke out about feeling angry and suppressed after the circle; while others praised the solution-making process.
"Although I felt out of place in the circle because I am not a person of color, I felt it was effective to do the circle as a class," said senior Sidney Duncan. "However, I think it takes more  time and effort to heal from hate speech and truly make a difference to end it."
In a world where hate speech is becoming more prominent in places of education, it is important to know the policy each school has on handling said incidents in order to be assured and aware of how to handle it, specifically here at Rangeview. Rangeview, being a place of education, uses restorative justice to teach in and outside of the classroom.
 Mrs. Rahn said, "[punishing hate speech] is important, more importantly [is] the educational piece that goes along with it."