Opinion: Wake Up APS-Kids are killing kids and we aren't prepared
On November 14th, the head of Aurora Public School safety and security, Gregory Cazzell, came to Rangeview's student leadership class. Rangeview's student leadership consists of about eighty students who ran for a spot in the class to represent the student body. Often times when adults are looking for student input and student voice, they turn to this group of kids. 
As we sat in the auditorium waiting for class to begin on that Thursday, none of us really knew what to expect from Mr. Cazzell. All we knew was that we had questions and we wanted answers. 
"I was hoping to get something done in terms of actually making Rangeview safer or figuring out who we should go to at least start a conversation, but neither of those things happened," stated senior, Jacey Lowry. 
We live in a country where the lives of children are not prioritized. We live in a country where we expect our children to die at school. We live in a country where school shootings have become normalized and not covered as dramatically across all forms of media. 
One point that Mr. Cazzell made clear was that his team consists of only 20 people. There is the APS dispatch center and then the men and women in uniform who make up his team of 20  help protect over 40,000 students and 5,000 staff across the district. To me, this alone was alarming. 
We see so many faults in the overall communication of APS when it comes to safety measures and procedures. To wrap my head around the idea that there is only 20 individuals behind the true safety and security is hard, however, this system might be what is most efficient. On the day of the lockdown at Rangeview on November 2, 2018, there was a lack of knowledge for what to do and what the safest procedures were. There were teachers who opened doors, moved students, slept, and simply continued testing. In these situations, both students and staff need to know what to do and how to do it to keep everyone safe. 
"When the announcement came on, I had to run to a random classroom where the teacher moved us to the corner of the room and proceeded to use her phone. It didn't really seem like anyone genuinely knew what to do," said junior, Wendy Avelar. 
"APS CARES." 
When looking into safety and security within APS, the first link that you are taken to on the aurorak12.org site is a video that breaks down their system and tries to provide answers and reassurance to the community it is serving. The "C" in CARES stands for communication. The resources provided include: Safe2Tell, social media, email, texts, phone messages, and TV. 
The "A" stands for awareness. The video states, "All APS students and staff are aware of current secure perimeter, lockdown, and evacuation plans." The video then goes on to say that all sites and schools regularly practice these drills. 
The "R" stands for relationships. These relationships that are being referred to are with the City of Aurora, Aurora Police and Fire Departments, and mental health, crisis, and social service organizations. 
The "E" stands for engagement. The video draws attention to the "meaningful" conversations that take place daily between teachers and students, staff and students, etc. 
Finally, the "S" stands for security. In this part of the video, it informs the audience that new and improved security cameras will be put into place. The threat assessment teams are also discussed.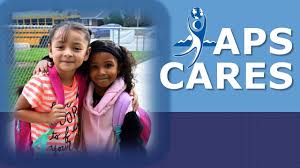 Although I do believe that it was in good intentions that this video was made to help ease our community in a time of horror within the country, this video does not at all accurately display what is really happening in APS schools. 
The truth is that we, as students, are not aware of these procedures. We, as students, are not given the time or opportunity to practice these drills that are "taking place in all buildings." 
At schools across the district and across the nation, there are fire drills happening every month. At Rangeview, our "drill" was not a drill. It was real and we didn't know what to do. 
Sophomore Sami Addi said, "Fire drills shouldn't be removed, but they should be done less frequently and replaced by drills that have a higher likelihood of actually happening… the last school fire was in 2005 in Washington, the last school shooting was last week." 
What is happening however is, we are being yelled at to wear or show our ideas maybe once a day, once a week, never– depending on where you go to school. At Rangeview, in the mornings, adults do stand by the front doors and ask to see IDs. This system that is being used does seem to be useless. As long as you flash any card that looks like a school ID, you will be fine. 
Addis Mulugeta said, "Rangeview does a terrible job of checking ID's, I can literally bring a lanyard with any card on it and get in.
Mr. Cazzell talked about the importance of students and staff wearing IDs so that they can keep the people who should be in the school, in and the people who shouldn't be out. When we look at the majority of school shootings, it happens to be that most of the time, those who are responsible are in fact students of the school. This means that they are the ones who will too have IDs. 
As a student, it can become extremely frustrating when the only measure that the adults are doing is nagging about IDs that they either don't wear or being ignorant of the truth in the fact that STUDENTS are killing STUDENTS. 
Mr. Cazzell spoke on the fact that there is no profile for the people who are shooting up schools. Young white males have been the cause of the majority, if not all school shootings. This is not a stereotype intended to bash white males, it is a fact. It is the truth. By ignoring or disregarding this fact is protecting white privilege and is protecting white fragility. 
"I want to see change in school security and I don't want to be afraid to die in a place that I legally have to go to," said Torin Beall.
Going back to "APS CARES", if they truly care, and if they truly want to bring awareness to something so real, they will begin to look for ways to genuinely spread awareness and find solutions to give support to all students who may be having concerning thoughts. APS needs to work for better policy and new policy change.
As students, we need to continue to advocate for ourselves. We need to demand time be given to go over scenarios and procedures. APS needs to prioritize investing into more safety equipment and ensuring that the safety measures already put in place such as doors all function properly, including their alarms. We need to see action instead of false promises.