Harry Styles: Fine Line Review
On December 13th, 2019, former One Direction band member, Harry Styles, released his sophomore album Fine Line. With 12 tracks, it quickly rose to the top of the charts, making it the first Billboard #1 album of the decade.
Throughout this article, you will go through the roller coaster of which this album is. The songs were particularly written and placed throughout the album, making the album in itself its own story. Here is a review of Fine Line by Harry Styles:
With his opening track, Golden, a mellow pop song, Harry Styles sings about not wanting to be alone but not feeling good enough for this girl. 
The opening is very straightforward with the word golden being repeated in the intro and throughout, making his message and emotions clear. 
He refers to her as Golden because she is lively, bright and perfect in his eyes compared to himself as seen in verse one, "I know you were way too bright for me I'm hopeless, broken, so you wait for me in the sky."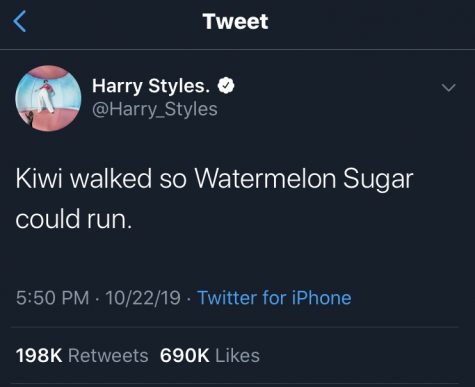 As the first song on his "Fine Line" album, Harry Styles chose a chill, easy-to-vibe pop song to get the listeners intrigued to continue listening. Personally, my favorite aspects of Golden are the backing vocals and drums. 
Sticking to the pop genre, Watermelon Sugar is a repetitive but catchy song that makes the listener want to hit repeat over and over again. It's also one of the more hype songs that many can listen to even if they aren't a fan. 
Styles sings about a summer full of memories and happiness with a lover. From verse 1, Styles sings, "Tastes like strawberries on a summer evening, and it sounds just like a song, I want more berries and that summer feeling'," he describes his feelings as warm, very enjoyable, and longing for more.
Along with Adore You, it seems to be one of the more popular songs released. Whenever Harry Styles sings the chorus, the song is enhanced by the sound of a horn giving it a happier tone, while the lyrics are repetitive enough to make the listener sing along.
Overall, Watermelon Sugar is a good song that listeners have stuck in their head for weeks and want to listen to. It gets me excited and groovin along, with the really good electric guitar and slide guitar mixed with the horn. 
One of the more popular songs from Harry's new album is Adore You, peaking at number 24 on Billboard's Hot 100. As one out of the two songs from the album to have a music video, the song is very enjoyable and something refreshing for new audiences and long time fans. 
The song is about Styles expressing the great amount of love and passion he has for his significant other, hence the repeating lyrics of, "Just let me adore you, like it's the only thing I'll ever do."
However with the pre chorus lyrics, "You don't have to say you love me, you don't have to say nothing, you don't have to say you're mine," he also sings about loving this person so much that he doesn't expect too much from them except letting him show his love.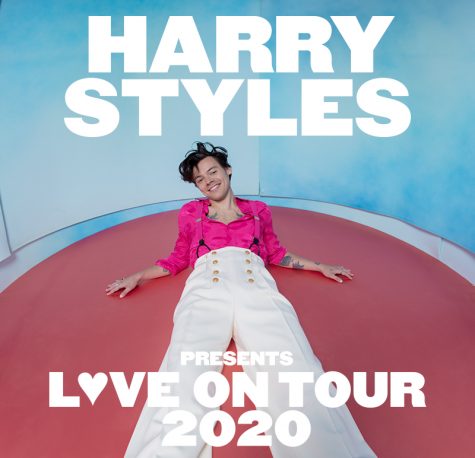 The opening keyboard gets the listener engaged and wanting to continue listening to the rest of the song since it sets up what's coming next. The bass throughout is also very consistent in making the listeners groove and nod their heads, making it a nice song to vibe with.
As one of the two songs that have an official music video, Lights Up was the first single Styles released in 2019. The song starts with an intriguing guitar sound and afterwards the drums kick in, which drive the song forward.
Styles described, "I mean, for me, I think the song is about, like, you know, freedom and, I guess, self-reflection, self-discovery … I guess a couple things that I'd kind of thought about and, I guess, wrestled with a little bit of the last couple of years."
This can be seen with lyrics such as in the bridge, "Shine, step into the light, shine, so bright sometimes, shine, I'm not ever going back." This can be interpreted to how once he found himself, he didn't want to go back into the darkness and not know who he is. Supporting the idea of this darkness he felt in the chorus, he sings, "All the lights couldn't put out the dark runnin' through my heart."
Written about his ex Camile Rowe, Styles crafted Cherry to be extremely personal to himself, but to the listener too. 
Since the song's release, many fans have tried to uncover the title's meaning. 
One fan even took it to twitter saying, "the song is called Cherry because she used to call him 'Darling' in French, aka: "Chérie"" which would explain why the word Cherry isn't actually used within the song.
The song's chorus repeats the words, "Don't you call him "baby"/We're not talking lately/Don't you call him what you used to call me." This reveals the pain of someone who has gone through a break up, for a relationship that they aren't completely over which Styles said was to focus on him "being more open and not like, 'I don't care.'" 
With it's soft acoustic guitar, Cherry is the perfect song for any feels playlist, especially if you want to cry. It's a fragile piece about being jealous and petty over a past lover, who you want but you can't get.
The end of the song adds a hint of nostalgia, where Styles includes a French voicemail from his ex translated to:
"Hello! Are you asleep? Oh, I'm sorry…."
"Well, no…nope, it's not important…."
"Well then…we went to the beach and now we—"
"Perfect! Harry—"
Falling by Harry Styles is a love ballad in which he sings about the feelings he still has for his lover, who he somehow lost. Beginning with a soft piano, it sets a lonely and broken tone.
The ballad opens up with, "I'm in my bed/ and you're not here/ and there's no one to blame but the drink in my wandering hands," suggesting that the music follows the story of two lovers that had a fallout because of a mistake in the relationship.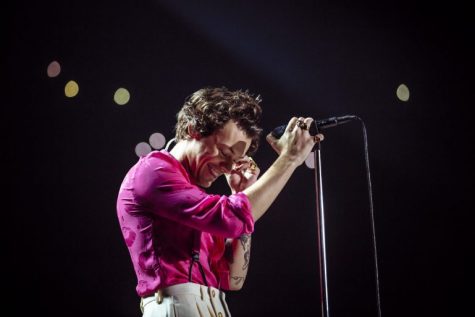 The song continues, with the chorus repeating the words: "What am I now?/What am I now?/What if I'm someone I don't want around" This displays a theme of brokenness, as Styles sings about how he's becoming the person that he doesn't want to become. With the repetitiveness in his syntax, Styles was able to create a song for lovers who have fallen out of love but not entirely.
As one of the few slow songs on the album, Falling creates a tone of unhappiness, making it the perfect song to put on your post-breakup or feels playlist.
Sophomore Kayla Bond said, "My favorite song would most likely be Falling, as it speaks to the insecurity and hurt someone has after getting their heart broken. The line 'what if i'm someone I don't want around' hits different when you are sad and alone in your bed at 1 am."
Following the emotional ballads of Falling and Cherry, this song resembles the attempt of reconnecting with a past lover during a time of great pain and a breakup, but beginning to accept that things have ended.
In To Be So Lonely, the chorus repeats, "Don't call me 'baby' again, you got your reasons…" The lyrics have a resemblance to the song Cherry which lands earlier on the track list. The words: "Don't call me 'baby' again" resemble that of someone who doesn't want to fall back into their relationship; someone who is ready to move on.
In an interview with Rolling Stone, Styles revealed that the song was composed on a guitalele, which resembles the sound of guitar, for that light and upbeat tone that the chords give off, backing the lyrics.
To Be So Lonely is the perfect song to listen to when you're sad, but you're ready to push past it. It has a carefree tone and lyrics of loneliness allow the listener to learn to let go.
After listening to She, it instantly became my favorite song on the album, with the guitar kicking in at the chorus giving so much emotion to Styles' voice. The song also gives me a certain image and feeling each time I listen to it. It feels like a timeless mature type of sound.
In the song Styles sings about this woman who is his ideal lover, yet he doesn't know who that person is. 
In the chorus he says, "She (She), she lives in daydreams with me (She) She's the first one that I see, and I don't know why, I don't know who she is."
My favorite part of the six minute and three second song is the guitar solo played by Mitch Rowland. Personally, it doesn't feel like nowadays artists have long songs with breaks to highlight a long solo that adds so much meaning to a song. That's why it's one of my favorites because it feels like something that could've been released years ago, but has a modern touch to it. 
The first time I dove into the song Sunflower Vol. 6, I'll have to admit it wasn't my favorite, but I've grown to love the mellow melodies. In an interview, Styles discussed how the song was a deep cut — meaning less commercial or radio friendly — to make the album more enjoyable.
Sunflower Vol. 6 is about someone who is reminiscing about the good times, releasing that they die in a physical sense, but not mentally. The song starts off with the lyrics, "Sunflowers sometimes keep it sweet in your memory," representing the memory being fresh still, as if just happened.
However, the character starts to feel the happiness of that moment fade away. The song ends with the words, "Sunflowers sometimes keep it sweet in your memory." Describing how nothing good lasts forever, it will be something that the character will forever remember.
Musically, the song has an older vibe to it, most notably the drums and an Indian instrument known as a sitar — which both creates a nostalgic tone, invoking a sense of temporary happiness.
Sunflower Vol. 6 is a nice relief from the rest of the album, because it's just different. The musical style makes it a song that's good for anytime of day, regardless of what mood you may be in.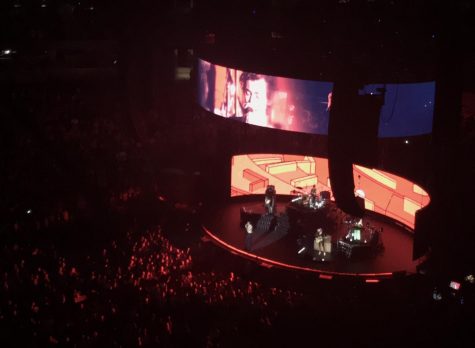 With more of an upbeat happy style Canyon Moon starts with fun instrument rhythms and has a nostalgic feel to it as Styles sings about his previous memory at this place. Seen by ending each verse with, "And I keep thinking back to the time under the canyon moon." 
He sings about good moments and experiences from, "The world's happy waitin', door's yellow, broken blue, I heard Jenny saying, Go get the kids from school," to "She plays songs I've never heard, An old lover's hippie music, pretends not to know the words." 
Styles also experimented with a dulcimer; a musical instrument with a long rounded body and a fretted fingerboard played by bowing, plucking, and strumming. 
He learned how to play it from Joellen Lapidus, a pioneer of contemporary fretted dulcimer playing, songwriting, and instrument construction. The instrument is what made the song more upbeat and happy, especially the beginning as well as the slide guitar giving it unique sounds throughout.
Personally, Canyon Moon is my least favorite; the song isn't bad and has good experimentation with instruments and music style; however, when listening to the rest of the album, it doesn't seem to fit. I would skip this song if I listened to the album in order, but possibly keep listening if I am in a certain mood. I also wouldn't voluntary put on this song and listen to it, opposed to the other songs.
In contrast, Senior Jacey Lowry, when asked what her favorite song from the album was, said, "Canyon Moon because I feel like it matches my personality."
Coined after Harry Styles' TPWK (Treat People With Kindness) campaign—in which he donated merchandise profit to local charities — this song is the perfect mixture classic Queen and contemporary pop. 
A song that truly doesn't get the recognition it deserves, Treat People With Kindness features a choir that repeats the words, "Maybe, we can/Find a place to feel good/And we can treat people with kindness/Find a place to feel good," leaving the listener with positive thoughts, as it inspires them to be kind to themselves and those around them.
The song has a light tone to it, that of a Queen song from the 1970s. It makes the listener want to dance along, especially to the lyrics, "Feeling good in my skin/I just keep on dancin'" mixed with the sound of a conga in the background.
Contrasting from mainstream music that has such a modern sound, Treat People With Kindness experiments with 1970s sound to bring an important message to life.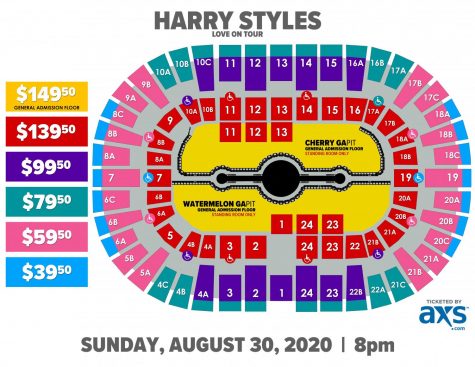 In an interview with Capital FM, Styles discussed that Fine Line "was always going to be the last song on the album." It definitely fulfills the role that a final song should have.
The song is the longest on the album — it's six minutes and 20 seconds. However, it's one of the most minimalistic, with the lyrics presenting themselves as repetitive; in a good way.
Styles' opening chorus sings, "We'll be fine line," summing up the journey that the album is. Fine Line represents the ups and downs of life, and how there is a small line that divides the two.
Backing instruments to the song include an orchestra, drums, horn, and acoustic guitar, creating the perfect ending to an album. As the melodies build in the background, the listener feels a sense of a grand finale.
The song's outro includes the words, "We'll be alright." This creates a sense of ease, especially after the love and heartbreak experience throughout the album.
The song's length as well as it's theme of closure creates the perfect ending to an album, and certainly a show. Styles will be touring throughout 2020, for his show Harry Styles: Love On Tour. Fine Line will be the ideal ending to his concert.
Valeria Acosta:
After listening to all 12 songs on the album, I would give "Fine Line" by Harry Styles a 9.2/10. The album has very solid songs that are enjoyable and have different emotions attached to them such as being all alone and missing someone, being in devotion and admiration, to being heartbroken. 
The song lyrics take you through a journey in what Styles feels, and certain songs have similar elements to connect them. The use of different instruments added some spice to the songs and overall the guitars were powerful and my favorite element in a lot of the songs. Especially the guitar solo in She which is my favorite song from the album because of that and it's overall mood and tone.  
However, despite all that, lyrically there was a hit or miss with the repetitiveness in a couple of the songs. For some songs, it worked and others it didn't. For example, in Watermelon Sugar, the repetition works and makes the listener sing along and remember it. However, in Golden, it seems to be very repetitive for a long time that it takes away from the other aspects of the song that make it good.
Even though Treat People With Kindness and Canyon Moon are good songs, when listening to the album, they feel out of place and they leave confusion and very different vibes in a row. Treat People With Kindness has a good Queen style and can stand by itself. I feel like it should've been released as a single. 
Then Canyon Moon with its folky sound shouldn't have been released at all, or at least not in the album after Sunflower Vol. 6. The transition from Sunflower Vol. 6 to Fine Line would've made more sense and worked as a 10 track album.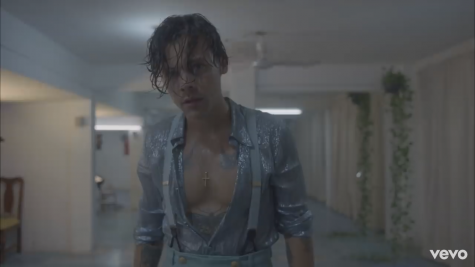 Joslyn Bowman:
Being a fan of Styles since his One Direction days in the early 2010s, his music has evolved greatly. There was even a large jump from his debut album Harry Styles to Fine Line. Overall, I would give the album a 9.5/10, partially because everything has room for improvement.
I especially enjoy the journey that the album takes the listener through. It truly is an album that you have to listen through from start to end in order to have the full experience. The first few songs focus on being deeply in love and happy with yourself and who you are. However, when Cherry comes along, it's about how quickly that happiness can change, and the struggle to find yourself again. 
Styles' music has something for everyone to relate to, which is vital in the music industry. With his album Fine Line, Harry Styles managed to create something so different. Each song has its own individual feel to it; they're all different. Making the album feel so complete as a whole.
Personally, I've fallen in love with this album as I reviewed it and dissected each song on its own. They all have their own aspects that make Styles stand out from modern pop. He tested new things by putting what he thought was best, not mainstream music — making this album the masterpiece it is.