Christopher Speller, Colorado's Most Underrated
In Rangeview's 2019-20 Season, the Raiders are preparing to go back to back, following their 26-2 championship season last year. All-State Guard Christopher Speller has propelled forward as one of Rangeview's and Colorado's best players.
Last season, Speller was named to the All-State Second Team, along with being named to the EMAC All-Conference First Team. He was also named the MDP (Most dominant player) after his performance in last season's Final Four, averaging 21 points per game and winning Rangeview their first championship since 1985.
Even with Speller's current achievements, he has yet to receive a D1 offer. When asked about how he felt about this, Speller said, "We won the whole thing, and… most of the guys that didn't win or even make it to the playoffs, they got D1 offers… and I feel [underappreciated]."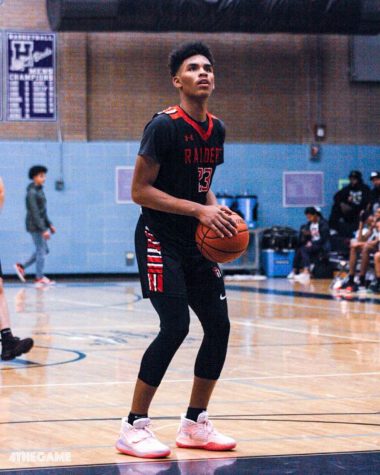 Standing at 6'5, Christopher Speller is still one of the most well-rounded players in the state. This season, he's averaging 10.8 points per game, 3.3 assists per game, 4.6 rebounds per game and even contributes on the defensive end, averaging 2.3 steals per game.
"I feel that I get everybody involved… and when it comes to winning the game, I feel that I could take over the game, and score some points if they're needed to be scored. I feel that I have a pretty good all-around game on both sides of the floor because most people can't play both offense and defense," Speller said.
Without the stat sheets, Speller still impacts the game more than others. Coach Shawn Palmer had this to say about Speller, "He does a lot of the little things, the pass before the pass, the hockey assists as you might say, he just makes the right plays a majority of the time, and makes his teammates better."
If you know Speller personally some say he's a very silent guy, but being silent has its strengths and that's what makes him Rangeview's silent killer. Teammate Isaiah Jamison had this to say, "The defense never knows if they're in his head or if they're speeding him up as they're switching defenses or [even] pressuring more."
With Speller's extensive skill set, silent killer mentality, and ongoing accolades. He has yet to receive that first D1 offer and ranks as one of Colorado's most underrated.
This season, Rangeview is currently ranked #1 in the state with a 13-0 and are looking to win their second consecutive title as the season slowly winds down.