Rangeview Athletic Hall of Fame
Rangeview High School held their first annual athletic hall of fame on January 3, 2020. Many Rangeview alumni were acknowledged for their tremendous participation in sports and impact on Rangeview. 
"I saw that other schools like East, Overland, and more had this event and thought it would be great to implement it at our school," said Athletic Director Shawn Palmer.
The initial idea came from Palmer. He talked to other athletic directors and a couple of Rangeview staff members. They had their first committee meeting in August to discuss the first class Hall of Famers. The committee members were a collection of former and current Rangeview coaches and staff.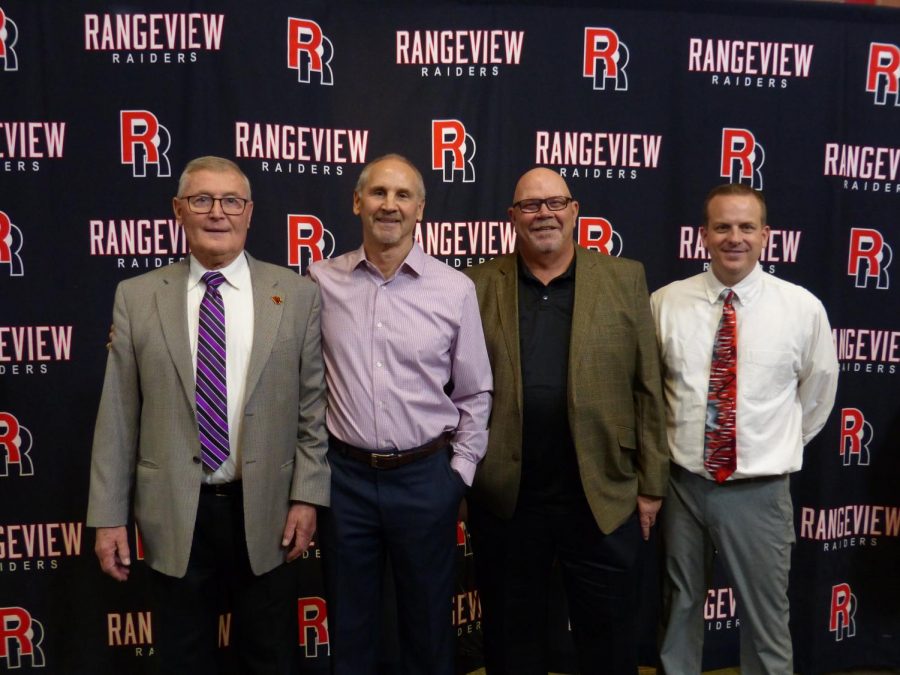 The committee chose inductees based on the impact they had on Rangeview athletically, academically as well as what they did after high school. According to Palmer, most of them either had a great career in college or went to the pros. The following people are the first Rangeview Hall of Fame Inductees:
Joe Burton – Athletic Director (1983-1999)
Original RHS Athletic Director, overseeing multiple team and individual state champions at Rangeview.
Terry Taylor Sr. – Boys Basketball Coach (1983-2003)
Boys Basketball and Tennis Coach, State Champion in 1985, 7 final four appearances. Rangeview record of 287 wins.
Angie Hungerford Grames – Gymnastics (1997)
State Champion in 1996 and 1997,  RHS athlete of the year in 1996 and 1997, competed collegiately at the University of Iowa.
Terry Taylor Jr – Boys Basketball (1985)
1985 CO Boys Basketball Player of the Year, 1985 Steinmark Winner, Rangeview valedictorian, played collegiately at Stanford.
Jerry Girkin – Baseball (1985)
All-State in CO Baseball 1985, RHS Athlete of the Year for contributions in basketball, baseball, and football in 1984-1985.
Kevin Herd – Cross Country (1989)
Boys Cross Country State Champion and ran collegiately at the University of Iowa.
Dawn Weber – Girls Soccer (1994)
6A CO girls soccer player of the Year in 1994, 4 time CO girls All-State, part of CO Girls Soccer team state championship in 1994, played collegiately at Iowa St.
Lisa Gurzick-Grosz – Softball and Girls Basketball (1989)
CO All-State in girls basketball and softball, RHS Athlete of the Year, played basketball collegiately at UNC Greeley
LaTonya Hollaway-Pleas – Track and Field (1993)
100m and 200m CO girls State Champion in 1993, ran collegiately at Kansas University.
Two of the inductees are actually current staff members at Rangeview: principal Lisa Grosz (maiden name Gurzick) and english teacher Dawn Weber.
"It was an honor to be apart of this awesome night especially being the principal," said Principal Lisa Grosz, "meeting my old teammates and coaches was the best experience."
Many people that participated in this event believe this was a great and even had nostalgia. According to Palmer there will be more events like this and will make this a new tradition to the Rangeview athletics.