Fires, Floods, and Earthquakes: What you need to know
Australia, Indonesia, and Puerto Rico have all been severely affected by tragedies such as fires, floods, and earthquakes that have brought up the topic of climate change. These environmental disasters are impacting our wildlife, our trees, our people, and overall, our earth. With various events and issues making headlines, it's hard to know what is actually happening around the world and how to ensure that we can live in a healthier and greener environment. 
Australian Fires
Since September 2019, fires have taken over the Binna Burra area in Australia. Since then, the fires have spread and gotten worse. 
According to the New York Times, "Roughly 12 million acres have been burned by the fires. By comparison, about 1.9 million acres burned in the 2018 fires in California; those fires, which were the state's most destructive, killed about 100 people." 
Around 90 fires are currently raging in the state, with about three dozen more to the south in Victoria. Australia reached its highest temperature ever recorded and this extreme heat is a contributing factor as to why the fire has rapidly spread.
Images and videos showing injured animals, such as koalas and several bird species, circled social media during the first week of the fires. Internet trolls have also spread misinformation on the link between the fires and climate change which has made news on the subject a bit more complicated.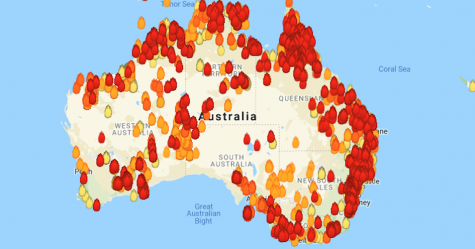 Rangeview's environmental club held a fundraiser January 13th-17th, where students could donate money for those affected by Australia's fires.
Junior Shem Myung said,  "I donated because the people and animals in Australia need it the most right now."
The environmental club raised around $300 for Australia, which shows that there are many students at Rangeview that care about these tragedies.
In moments of crisis and devastation, Australia has received ample amounts of help from those all around the world. Residents in Australia are offering their houses or beds for people who have lost their homes to the fires while some are making efforts to help injured animals. While there are still more animals to be saved, Australian Zoo Wildlife has treated more than 90,000 animals hurt in fires.
How to help Australia:
Donate to Wildlife Victoria
Donate to Save The Children 
Donate and learn more about the fire through Australian Red Cross
Indonesian Floods
Though Indonesia has experienced floods since New Year's Eve, chances of the floods being even more disastrous within the next month are high. This risk has forced families to evacuate, and homes and belongings have been drowned by the high levels of water. 
Indonesia is one of the many countries that are vulnerable to environmental disasters caused by climate change as well as one of the most fast sinking cities in the world; it doesn't receive enough help from the government. Residents are saying their governor needs to be more involved in flood management rather than focusing on an electric racing series. The lack of support is putting Indonesians in health risks such as, "In an emergency shelter at a sports center in south Jakarta, mothers breast-fed their babies near piles of smelly wet garbage." 
To find people quickly and get them to a shelter, Indonesians went to social media for support. Posts from people experiencing the floods gave emergency officials enough information to figure out which communities were needing support. Indonesia's National Disaster Management Agency has provided aid to victims of the flood and the Central Java provincial government has distributed items such as tents, baby diapers, and mattresses to those affected.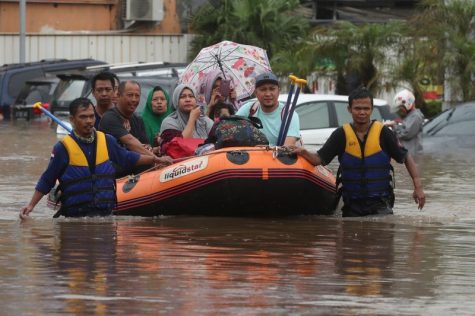 Junior David Syauta has family in Indonesia and describes their situation. "It's so bad, they can't even go to work."
 Multiple families in Indonesia are displaced and many of them struggle to find shelter. Syauta goes on to add, "I want people to put trash where it's supposed to be and always keep their surroundings clean or else things like this happen." 
How to help Indonesia:
Starting your own fundraiser for Indonesia: Not many fundraisers are out there so starting one would bring a lot of help to its people. 

Sign a petition on

Change.org

To cancel the Formula-E event which focuses on the electric racing series talked about earlier.
Puerto Rican Earthquakes
Puerto Rico has been hit by multiple earthquakes these past few weeks. On January 7th, a 6.4 magnitude earthquake hit the island, leaving its residents without power and without homes. It was one of the strongest earthquakes to hit Puerto Rico; residents had to evacuate their homes take refuge elsewhere for their safety.
According to USA today and the U.S. Geologic Survey, as of last Tuesday, "More than 950 earthquakes and aftershocks have been recorded on Puerto Rico since Dec. 31, though many were weak and could not be felt. More than 500, however, have been of magnitude 2 or higher." 
The island was hit by what some call an earthquake swarm. This series of earthquakes attacking Puerto Rico is likely to have been caused by the weakness in its infrastructure as well as the fact that it's squeezed between the North American and Caribbean tectonic plates.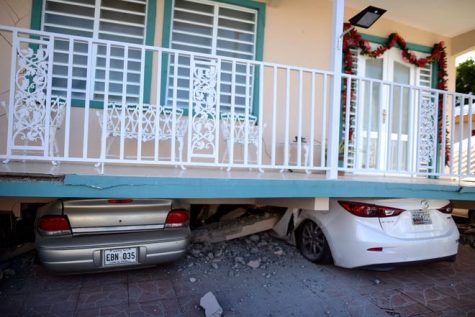 While the island is prone to seismic activity, it has mostly recovered from its other disasters such as Hurricane Maria in 2017. RHS has donated to Hurricane Maria in the past because such environmental disasters are important to students; however, not all are convinced this is an issue.
When asked why students should care about these environmental disasters, Senior Avery Hill, the treasurer of the environmental club, said, "People should care about things like this because it affects the whole planet and is killing off animals and wildlife. Our actions that have lead to global warming are having a direct impact on our planet and causing these natural disasters, which dramatically decrease the quality of life for people around the world." 
Recently on January 10th, a 5.4 magnitude aftershock hit the territory and on January 11th yet another earthquake struck with a 5.9 magnitude. Since these earthquakes are spontaneous some residents are calling this situation worse than Hurricane Maria. Progress towards recovery has been slow and hard for people however, they are receiving support from Airbnb's Open Homes which is offering free temporary housing for residents who are displaced until the end of the month.
How to help Puerto Rico:
Not all hope is lost 
For some of these affected environments, government involvement is a prominent issue because not many leaders are taking these situations seriously. Many leaders were not prepared for these catastrophic disasters and they aren't planning on doing much now that they've  happened. With this information, some may believe the earth is doomed; however, not all hope is lost. 
People are sharing, creating, and implementing various methods to help make our Earth greener one day at a time. The more people that aim to help the planet, the faster we'll help it. Listed below are some websites or accounts to check out in case you want to hear about how we are making progress in the fight against climate change. 
Instagram: Happy Broadcast
Website: One Tree Planted