[ZOOMER TIMES] – A Glimpse in Time; Top 10 Non-Smart Watches of the Past 10 Years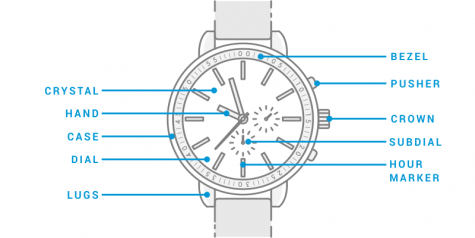 When looking at the thousands of watches for sale ranging from Wal-Mart to Rolex and beyond, it becomes a bit difficult to sift your way through what some of the top watches made in the past ten years really are. With such confusing and complex parts, how does one even begin to choose a model or know what a good price even is? Luckily, there's a guide made just for you! Though this is not much of a shopper's guide, it is cool to see how incredibly complex the movements of watches can be, and how high the prices get to.
Orient Sun and Moon Version 2
The Orient Sun and Moon version 2 brings a splash of class and color to any outfit. With its classic yet complicated-looking textured dial, some of the subtleties and nuances of the watch design may escape the common eye.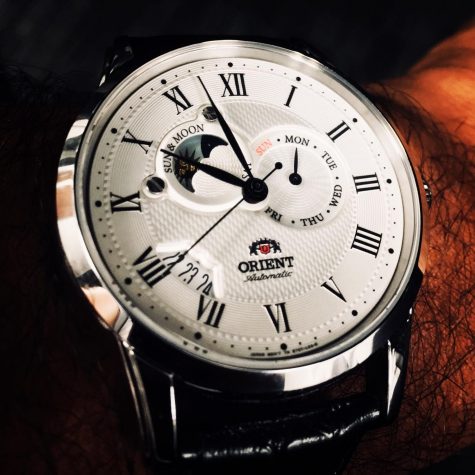 With a leather strap and stainless steel case metal, It has a sapphire crystal, an automatic in-house twenty-one jeweled Orient movement (meaning that the inner workings are also made by Orient and the watch itself runs by way of mechanical energy and has no battery), a Sun/Moon subdial which indicates day or night, a date indicator, and a day subdial. 
This all, of course, along with its normal time-telling capabilities, the subdials of the watch also come embosomed in the dial. It glides at 6 bps like most Japanese-made second hands and has a final price of $445. However, it is often on sale and can be easily purchased for as low as $230.
One of the cheapest watches with an automatic movement (the mechanism inside is mechanical when no battery is needed) it comes in at just $230 on sale.
Bulova Lunar Pilot
The Bulova Lunar Pilot, unfortunately, often takes second place among watch collectors when compared to the Omega Speedmaster, the watch that comes to most minds when thinking of a "moon watch".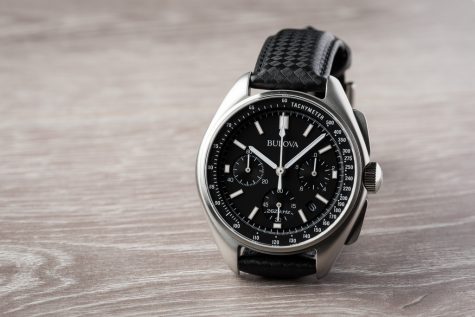 Bulova, an amazing American watchmaking company founded by Joseph Bulova in 1875, has unfortunately fallen from much of its horological history. However, the Lunar Pilot cannot be ignored. Being taken on the 1971 Apollo 15 mission, the Bulova moon watch helped make horological history. 
The newest edition of this timepiece keeps the original design of the first watch, but is sold with a Bulova 262kHz precisionist movement, and its seconds hand ticks twice as smoothly as that of a Rolex. For a retail price of only $540, it is hard to beat even with its large case size. A homage to the Apollo 15 mission, the Bulova Lunar Pilot is equipped with a precisionist movement.
Seiko Presage Enamel SRQ023J1
The classic and yet modern Seiko Presage Enamel SRQ023J1 comes with a thirty-four Jeweled Seiko 8R48 movement beating at 8 bps, meaning that it essentially ticks at the same pace as a regular mechanical Rolex or other Swiss watch would.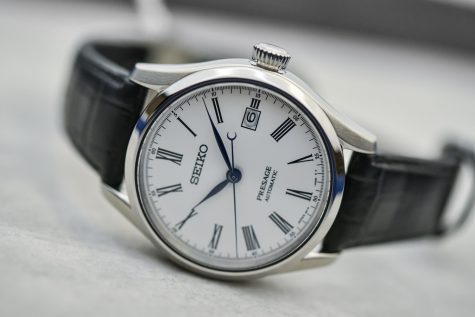 The aesthetic of the crisp white dial, contrasting blue seconds hand, chronograph movement with pushers, and the black leather strap to top it all off really make this watch turn heads, but not too many.
With a retail price at $2,400 USD, this specific Presage is in stainless steel, but the real value is in the movement and heritage of the watch.
When most think of Seiko, $2,000+ watches do not come to mind. However, this watch is easily worth the price with all the features it comes with.
(HULK) Rolex Oyster Perpetual Submariner 
When looking at this watch, it quickly becomes all too obvious why this watch has been given nicknames like "Hulk" or "Money". Made out of Rolex's own Oystersteel, this dive watch comes in with 330m (1000 feet) of water resistance. Roughly, this is a water resistance of 30 atmospheres.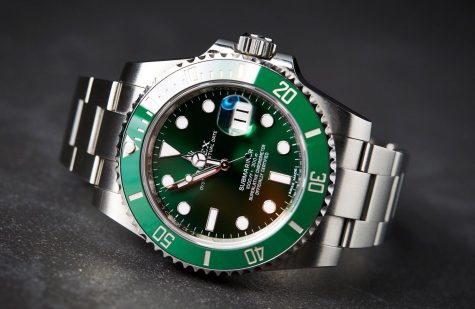 Equipped with the self-winding automatic 3135 certified Swiss chronometer movement, the second hand just glides across the dial. At a retail price of just over $9,000, this watch comes with other features such as a unidirectional rotating bezel made of ceramic (the part on the outside of the watch that has numbers) Platinum coated numerals on top of it, and a tough movement.
This watch can surely follow you to the bottom of a reef and back up again, while still being in perfect condition to garner plenty of compliments once you return.
The Rolex Hulk is one of the many Rolex watches that actually cost more second-hand because they are so hard to purchase from Rolex due to them constantly being sold out.
2018 Zenith El Primero (03.2040.4061/69.C496)
The legendary Zenith El Primero has captured the hearts and minds of more than a few hundred watch collectors over the years. With its brilliant design and artfully placed stars all across the movement, dial, and caseback, it's hard not to become captivated by the little things.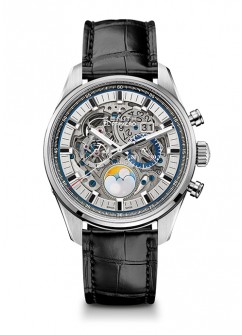 Today, an officially certified chronometer, the Zenith El Primero chronograph was also the very first automatic chronograph to ever be put onto the market. With a seconds hand moving at 10 bps, this seconds hand glides even smoother than a Rolex, though not nearly as smooth as the movement of a Bulova with a precisionist movement.
Many components such as the column wheel or escape wheel are made out of unconventional materials, but they are highly effective and eye-catching, helping to justify the nearly $7,000 price tag.
The Zenith EL Primero Chronomaster was the first ever mechanical chronograph. With colors that contrast so well together, it's hard to beat the style of the Zenith El Primero. (chronograph is used to keep exact measurement of increments in time, through the use of the smaller subdials on the dial of the watch)
Jacob & Co. Tourbillon Astronomia Maestro 
When looking at this watch, it is a bit hard to tell why the $680,000 price tag is justified. In all honesty, it looks like a gigantic fish bowl that tells time on your wrist. However, when taking a closer look, it becomes all too obvious why this watch is one of the priciest money can buy straight from a dealer.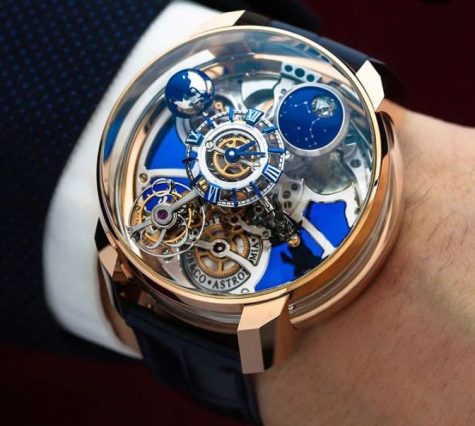 To begin with, it has a minute repeater with carillon, and a special barrel (the spring that makes the watch run) system which is the first of its kind ever to be made in watchmaking.
On the surface, there's an astronaut floating around above the dial, held in motion by a rotating arm. Beyond this, there is of course the center clock which tells the time, a moonphase indicator which is operated by the rotation of a 288 facet specially cut diamond set inside the Earth, with the diamond rotating on its own axis to be perfectly aligned with the moon in 31 days.
And, the minute repeater allows the watch to 'sound off' on the time, by way of special bells within the watch which tick off the time. This all, of course, with Jacob & Co's signature tourbillon as well, which is a piece inside the watch that also rotates and, while ensuring accuracy, is largely for aesthetics. Encased in a bowl of Sapphire and limited to just 18 watches, this watch has 608 components on the inside, and is easily one of the most complex watches ever made though it may not look it. 
Jacob and Co. is a rather new company in the grand scheme of things, being founded in 1986. In spite of this, their name has quickly become legendary in the watch community.
A. Lange & Söhne Langematik Perpetual in Honeygold 
In the pantheon of legendary watch brands, the german A. Lange & Söhne cannot be ignored. Their new 2019 watch– the Langematik Perpetual in Honeygold– is no exception. Limited to just 100 pieces, the watch is head-splittingly complicated.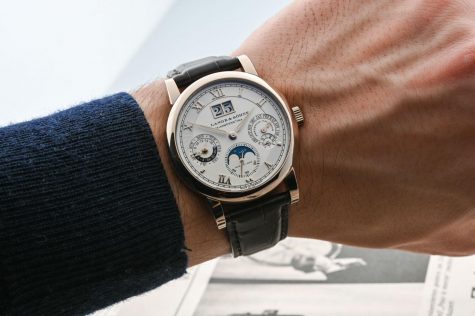 For starters, it is completely mechanical like all other watches on this list (except the Lunar Pilot) which means it has absolutely no battery and no microchips on the inside telling it what to do.
And yet, through hundreds of wheels, cogs, and microscopic parts this watch is able to precisely account for all leap years and different durations of the months in its perpetual calendar.
In fact, the watch would only need to be manually adjusted if it ran continually once every 100 years. With a patented special warm hue of gold alloy, the case, hands, appliques, lunar disk, and buckle are all made out of solid Honeygold. In fact, even the dial (face) of the watch is crafted from solid silver.
This all atop the months that it takes to build this watch and  its ability to outperform most other mechanical watches, the price of $95,575 seems quite justified. 
The Langematik is often compared to the Patek Philippe Grand Complications, and some would even put them as near equivalent timepieces. In a special Honeygold, the design of this watch is extremely hard to beat.
Patek Philippe Grand Complications (5316P)
Also a definite inclusion in the pantheon of top watchmakers, Patek Philippe has a history of horology dating all the way back to its founding in 1839.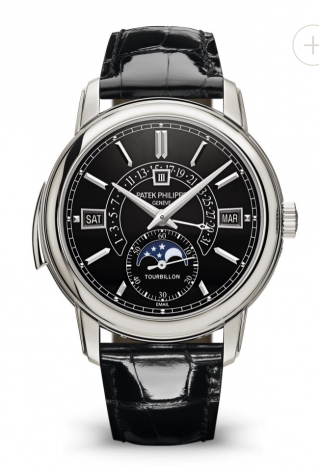 With its Grand Complications model often compared to the A. Lange & Söhne Langematik, the Patek does have a few things which stand out from the Langematik.
For starters, its case is made of solid Platinum, though this is often disregarded as those who buy Grand Complications aren't usually purchasing it for the flash and charm, but rather for the complexity of the movement. With this particular watch being a tourbillon with a perpetual calendar and moonphase similar to that of the A. Lange & Söhne Langematik, this watch would definitely catch the eye of any high-price point collector.
The Patek Philippe Grand Complications is meant to be Patek's Magnum Opus as far as complexity of movement goes. And, with the large amount of time it takes to manufacture such a piece, complexity and price go hand in hand.
Vacheron Constantin Fiftysix Tourbillon (6000E/000R-B488)
Vacheron Constantin was founded in 1755 and is one of the oldest watch brands still producing watches today. As such, it is only natural that they should produce some of the most impressively designed watches both aesthetically and mechanically.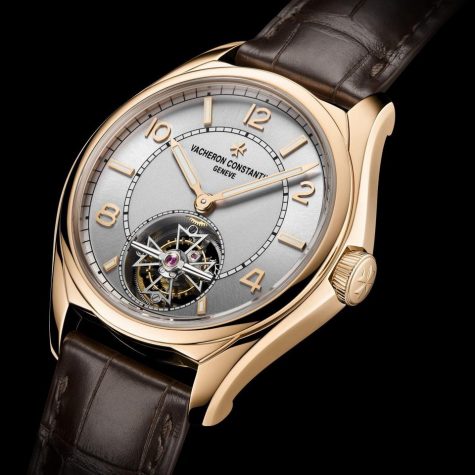 The Fiftysix Tourbillon is one of their newest models, and is made of solid 18K pink gold. The elegant thirty-jeweled movement is displayed by way of the caseback, and the decorated Tourbillon is open, being readily and proudly displayed to the world. Certified with the Hallmark of Geneva, this watch is indeed so new and upper-class that the price is available only upon request. 
The Cross-like design of the exposed Tourbillon adds a beautiful piece of class to the Vacheron Constantin Fiftysix. With the same design replicated on the crown of the watch, it is reminiscent of nearly all high-class watches.
1. Everose Rolex Daytona (Rainbow Sapphire) (116595 RBOW)
This watch in everose gold has easily become one of the most collectible watches currently on the market, and is one of the most highly sought after Rolex models. Its most prominent features are the rainbow of 36 baguette-cut Sapphires on the bezel of the watch and the Sapphire hour-markers.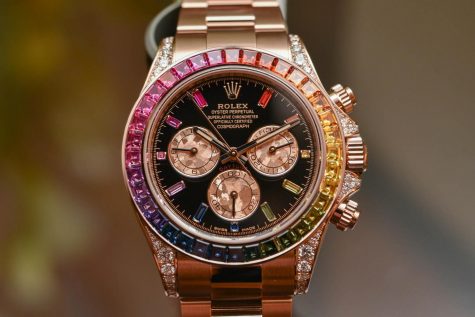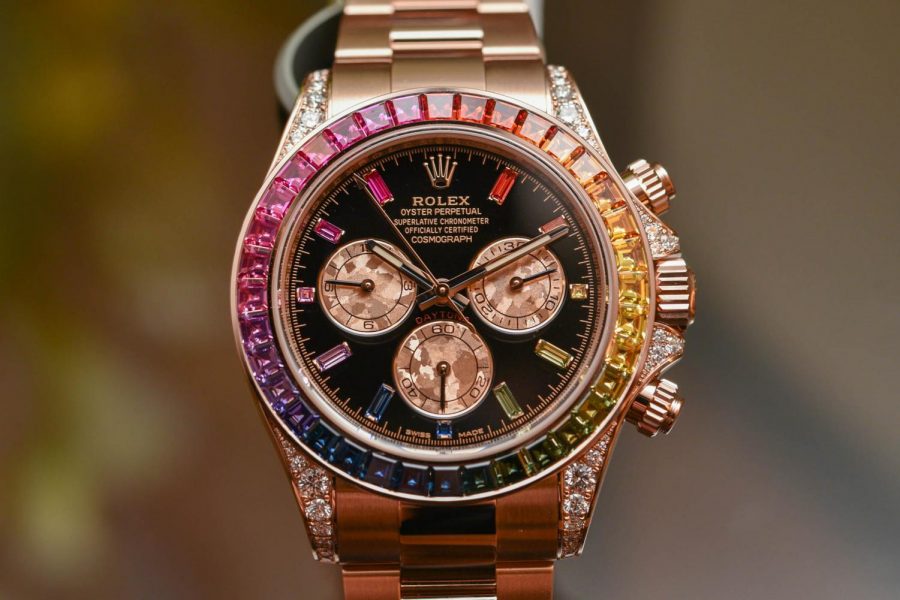 However, don't let the sapphires fool you, as there are diamonds on the lugs and a beautiful automatic swiss chronograph movement on the inside. This watch is so highly sought after that it is nearly impossible to buy one from a Rolex dealership at any given time, and the fastest route is the second-hand market, where these watches can easily go for as much as $300,000, which is more than triple what their retail price is.
The Rolex Rainbow Sapphire in Everose Gold is by far one of the most desirable watches of the decade. And, this is for good reason as its design is flawless.